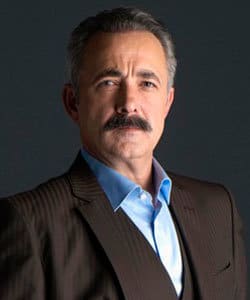 Profile
Name: Mehmet Aslantug
Birthdate: September 25, 1961
Birthplace: Samsun, Turkey
Height: 179 cm
Eye Color: Brown
Hair Color: Brown
Education: Iktisadi Idari Bilimler Fakultesi Isletme Bolumu
Talent Agency:
Spouse: Arzum Onan (m. 1996-present)
Children: Can Aslantug
Biography: Mehmet Aslantug was born in 25 September 1961 in Samsun. He was born as the fifth child of a family who is engaged with farming. He went to primary, secondary and high school in Samsun. After then, he moved into Istanbul in order to study business administration. While he was studying at business administration, he started to be interested in theatre and drop out his school. Mehmet Aslantug became well-known with his tv series Hot Hours (Sicak Saatler). Additionally, Mehmet Aslantug founded Detay Film in 1993.
Mehmet Aslantug Tv Series / Movies
1985 – Scorpio (Akrep Burcu) (as Medet Akrep) (Movie)
1986 – Before Sunrise (Gun Dogmadan) (as Tahir) (Movie)
1987 – Firefly (Atesbocegi) (as Yilmaz) (Movie)
1989 – On Track (Iz Pesinde) (as Tuncer)
1990 – Agha's Wedding Becomes Different (Baska Olur Agalarin Dugunu) (as Dr. Murat)
1990 – Going Down Strike (Vurguna Inmek) (as Riza)
1992 – Opening the Doors (Kapilari Acmak) (as Cihan) (Movie)
1992 – Disconnected Lives (Kopuk Dunyalar) (as Mehmet)
1993 – Super Dad (Super Baba)
1993 – Liar (Yalanci) (as Ali) (Movie)
1994 – The Guerrilla (Gerilla) (as Mehmet) (Movie)
1994 – Lobster Pot (Yengec Sepeti) (as Omer) (Movie)
1995 – A Woman's Anatomy (Bir Kadinin Anatomisi) (Movie)
1996 – Salvation (Kurtulus) (as Fazil)
1997 – Clock Tower (Akrebin Yolculugu) (as Kerem Usta) (Movie)
1997 – A New Star (Yeni Bir Yildiz) (as Yalcin Oran) (Movie)
1998 – Hot Hours (Sicak Saatler) (as Sedat Yalcin)
2000 – Merdoglu (as Omer Merdoglu)
2001 – Thief (Hirsiz) (as Adil Alemdar)
2003 – 2005 An Istanbul Fairytale (Bir Istanbul Masali) (as Selim Arhan)
2009 – Second Half of Love (Askin Ikinci Yarisi) (as Arif) (Movie)
2009 – Lady's Farm (Hanimin Ciftligi) (as Muzaffer)
2011 – My Dear Father (Canim Babam) (as Kerem)
2012 – Time of Departure (Goc Zamanı)
2012 – Farewell (Veda) (as Mehmet Resat)
2013 – 2014 I Loved Him So Much (Ben Onu Cok Sevdim) (as Adnan Menderes)
2015 – 2016 Intersection (Kordugum) (as Enver)
2015 – Showing Off (Racon) (as Kenan Korhan)
2017 – Resurrection Karatay (Direnis Karatay) (as Emir Celaleddin Karatay) (Movie)
2019 – Sisters (Kardes Cocuklari) (as Yildirim Saner)
2021 – Masumiyet (as Harun Orhun)
Screenwriter
2009 – Second Half of Love (Askin Ikinci Yarisi) (Movie)
Director
1998 – Hot Hours (Sicak Saatler)
2009 – Second Half of Love (Askin Ikinci Yarisi) (Movie)
Awards
1992 – 29. Antalya Film Festival (29. Antalya Film Senligi) – Best Actor (Opening the Doors) – En Iyi Erkek Oyuncu (Kapilari Acmak)
1993 – 30. Antalya Film Festival (30. Antalya Film Senligi) – Best Actor (Liar) – En Iyi Erkek Oyuncu (Yalanci)
1994 – 31. Antalya Film Festival (31. Antalya Film Senligi) – Best Actor (Lobster Pot) – En Iyi Erkek Oyuncu (Yengec Sepeti)
2005 – 1. White Pearl Tv Awards (1. Beyaz Inci TV Odulleri) – Best Actor (Drama) (An Istanbul Fairytale) – En Iyi Erkek Oyuncu (Dram) (Bir Istanbul Masali)
2010 – 32. Radio – Television Journalists Association Oscars (32. Radyo – Televizyon Gazetecileri Dernegi Oskarlari) – Best Actor (Lady's Farm) – En Iyi Erkek Oyuncu (Hanimin Ciftligi 1. Sezon)
Social
Instagram: https://www.instagram.com/mehmetaslantug/
Twitter:
Facebook:
E-Mail:
Trivia
Body Type:
Skills:
Zodiac Sign: Libra
Blood Type:
Hobbies:
Weight:
Mehmet Aslantug Gallery