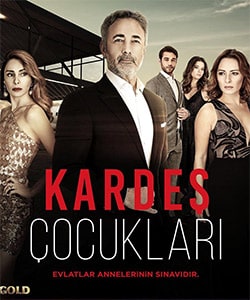 Details
Original Title: Kardes Cocuklari
English Title: Sisters
Also Known As: Children of Sisters (literal title)
Genre: Drama
Episodes: 21 episodes (1st season: 1-17 episodes; 2nd season: 18-21 episodes)
Broadcast Network: Star Tv
Broadcast Period: January 27, 2019 – October 8, 2019
Production Company: Gold Film
Director: Faruk Teper
Screen Writer: Sirma Yanik
Filming Locations: Istanbul, Turkey
Synopsis
Umran (Ayca Bingol) and Umay (Nur Fettahoglu) are sisters with opposing characters. Umran is naïve, silent, and self-sacrificing. Umay, on the other hand, is ambitious, jealous, and self-seeking. They live in a small village in Zonguldak, the city in the northern region of Turkey.
Umran is betrayed by her own sister and has to sacrifice her life for the secret she needs to protect throughout her life.
Both sisters fall in love with a young doctor Yildirim (Mehmet Aslantug) who comes to their village from Istanbul. Even though Umran and Yildirim has a pure love towards each other, Umay steals him away in order to escape to a big city.
The lives of these three young persons change dramatically all of a sudden. Yildirim leaves the village and dedicates his life to save poor children all over the world. Umay gets pregnant from her betrayal and gives birth to a baby girl. She leaves everything behind and goes to Istanbul in pursuit of a new life. Umran becomes left alone in a conservative village with a little baby.

Umay deletes everything related to her past, starts to live in Istanbul and says that she has lost her family in a car accident. Soon after, she gets married to a wealthy architect Resat (Engin Alkan) and gives birth to another baby girl. Umay starts to enjoy a glamorous life and keeps her past as a secret even from her husband.
While Umay becomes a wellknown personality in the high society, Umran struggles to survive in a small village. She has nothing to do but to raise Umay's baby as her own. In order to get rid of community pressure as a single mother, Umay gets married to Cemal (Murat Daltaban) and starts to suffer from both physical and physiological violence.
After 15 years, the life of these two sisters intersect out of pure coincidence.
Umay has a wealthy life together with her husband Resat (Engin Alkan) and her daughter Hayal (Alara Turan). She is involved in social projects organized by an association whose members consists of people from high society. She is well respected by the high society. She even has more followers on social media than her daughter.
Her daughter Hayal (meaning dream) is just like a dead loss in her opinion. She is socially excluded and does not have friends. She even has a weight problem.
On the other hand, Umran has an impoverished life in a small village. Her name means bliss and blessing in Turkish but she never has happiness throughout her life. She lives with a man whom she does not love for the sake her sister's daughter Hayat (Afra Saracoglu).
Umran raises Hayat (meaning life) as her own daughter and never says that she is not her birth mother. She does her best to provide a decent life for her daughter.
Hayat is a beautiful girl who is ambitious and self-confident as her birth mother. She wants to leave the village as soon as possible but cannot leave her mother behind. For this reason, she also endures the physical violence of her father.
The life of Hayat and Umran turns upside down all of a sudden. Cemal wants Hayat to get married to a wealthy landowner in the village. In the course of a discussion, Umran injures her husband and therefore, gets a 1-year prison sentence. After then, Hayat is left at the mercy of Cemal.
When Umran is put in prison, Cemal also locks Hayat into a dark and small cellar. He files a missing person report in order to misguide that her daughter has escaped from the village. For about 12 months, Hayat suffers from a torture without knowing the exact reason for that.
When police rescues Hayat, her tragedy becomes a hot topic in Turkey. She becomes a well-known poor girl whom everybody has mercy. Meanwhile, the police reach out Umay because she is officially registered as her aunt. Even though Umay tries so hard to escape from her past, she finds herself in the middle of chaos. She has nothing to do but to take Hayat into her life despite the fact that she abandoned her years ago.
Hayat comes to Istanbul and starts to live in a big mansion together with Umay and her family. Umran, on the other hand, gets out of prison and tries to rescue her daughter form this glamorous life. Meanwhile, Yildirim comes to Istanbul and comes across to his past love. The lives of Umran, Umay and Yildirim intersect again and they start a different journey this time.
Sisters (Kardes Cocuklari) tv series story is about two sisters who become enemy after they fall in love with the same man. Will Umran eventually forgive her sister Umay? Will Yildirim learn that he is the birth mother of Hayat? Will Hayal and Hayat get along well with each other or will they become enemy as their mothers? Will Umay manage to keep her past behind?
Sisters (Kardes Cocuklari) Tv Series Cast
Additional Cast Members
Engin Alkan as Resat Karay (episodes 1-21)
Evrim Dogan as Lebriz (episodes 1-21)
Cigdem Selisik Onat as Rezzan (episodes 1-21)
Handan Yildirim as Zehra (episodes 1-21)
Elif Cakman as Kevser (episodes 1-21)
Batuhan Eksi as Onur (episodes 1-21)
Nilay Erdonmez as Cansel Turna (episodes 1-17)
Berkay Hardal as Savas Ekim (episodes 16-21)
Cem Davran as Adnan Harmanci (episodes 18-21)
Erdem Yilmaz as Mert (episodes 18-21)
Melis Hacic as Idil (episodes 6-17)
External Links
Official Site: https://www.startv.com.tr/video/arsiv/dizi/kardes-cocuklari
English Wikipedia:
Imdb:
Social
Instagram: https://www.instagram.com/kardes.cocuklari/
Twitter: https://twitter.com/kardescocuklari
Facebook: https://www.facebook.com/kardescocuklaritv/
Youtube Channel: https://www.youtube.com/channel/UCU-qNWXHo9j-nzGtrlNOS3A
You Might Also Like
Gulperi
Ruthless City (Zalim Istanbul)
Sisters (Kardes Cocuklari) Tv Series Trailer (with English Subtitle)
Sisters (Kardes Cocuklari) Tv Series Trailer (Eng Sub)