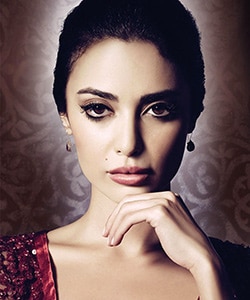 Profile
Name: Melike Ipek Yalova
Birthdate: May 4, 1984
Birthplace: Ankara, Turkey
Height: 156 cm
Eye Color: Black
Hair Color: Brown
Education: Bilkent University Foreign Affairs School (Bilkent Universitesi Uluslararasi Iliskiler Bolumu), Roma La Sapienza University
Talent Agency: ID iletisim
Spouse: Altug Gultan (m. 2019-2021)
Biography: Melike Ipek Yalova was born in 29 April 1984 in Istanbul. She is the daughter of former Minister Yuksel Yalova. After graduating from Ted Ankara College, she graduated from Bilkent University Department of International Relations. She also earned his Master's degree in International Policy and Crisis Management from La Sapienza University in Rome. She started her acting career with her role in The Magnificent Century (Muhtesem Yuzyil). While she was having a lunch with her friend in Bebek neighborhood in Istanbul, she took attention of the producer Nermin Eroglu and started her acting career. "When my peers were watching cartoons, I was watching discussion programs" she said in a 2011 interview with Elele magazine.

Melike Ipek Yalova Tv Series / Movies
Social
Instagram: Official Instagram Account
Twitter:
Facebook:
E-Mail: