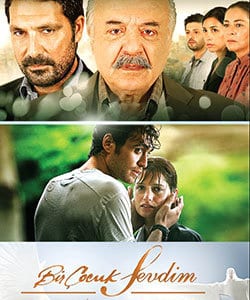 Details
Original Title:
Bir Cocuk Sevdim
English Title:
 One Child That I Loved
Also Known As:
The Girl I Loved (U.S.), Το Κορίτσι που Αγάπησα (Greece), Момичето, което обичах (Bulgaria), Meenay – Mera Pyaar (Pakistan), Девојката која ја сакав (Macedonia), أحببت طفلة
Genre:
Romance
,
Drama
,
Family Relations
Episodes:
39
Broadcast Network:
Kanal D, Star Tv
Broadcast Period:
September 9, 2011 – June 18, 2012
Production Company:
TMC Film
Director:
Cevdet Mercan
Screen Writer:
Gaye Boralioglu
,
Sema Ali Erol
,
Figen Sakaci
,
Emine Algan
,
Umit Kivanc
Synopsis
Mine (Gulcan Arslan) is a young and beautiful girl who has a modest life. Sinan (Hakan Kurtas), on the other hand, is a handsome guy who comes from a rich family. These two young lovers do not care about their different family backgrounds and want to live together in harmony for a long time.
When Mine becomes pregnant from Sinan, their tender love story turns into a tragic love story. Both of their families disagree of their relationship. Sinan's family does not tell Sinan that Mine is pregnant and send him to USA for his master's degree. After her lover breaks their marriage promise, Mine becomes totally alone and tries to handle the emotional pain of her family by herself.

Mine has a conservative family who does not approve of pregnancy before marriage. Mine's father Turan (Cetin Tekindor) devotes his life to leave good values to his wife and his three children. He tries to teach them on moral values, justice, honesty, and trustworthiness. For this reason, when he learns that his little daughter is pregnant before marriage, his life turns upside down. His sadness also affects the life of Timur (Bulent Inal) who is the boss of Mine's father. Timur is a young and rich widow man who owns a big car store and lives happily with his 13-year old daughter. Since Timur respects for Mine's father, he wants to do something good for him. In order to save the life of Mine, Timur accepts to get married to her and take the responsibility for the baby. Although it is an arranged marriage agreed only on paper, Mine and Timur become attracted to each other as the story develops.
In this story, you will explore a romance, family relations, hope, anger, conflict and betrayal at the same time. Will Mine and Sinan who come from different family backgrounds overcome all the obstacles in front of their ways? Will Sinan eventually learn that he has a baby from Mine? Will Mine and Timur learn to love each other in a marriage agreed only on paper?
Cast
Bulent Inal as Timur
Cetin Tekindor as Turan
Gulcan Arslan as Mine
Hakan Kurtas as Sinan
Onuryay Evrentan as Emine
Sefika Umit Tolun as Esmahan
Arzu Gamze Kilinc as Sureyya
Inan Ulas Torun as Erdal
Cansu Koc as Funda
Ilayda Alisan as Merve
External Links
Imdb: http://www.imdb.com/title/tt3241162/
Official Site: http://www.tmc.com.tr/diziler.php?diziadi=Bir%20%C3%87ocuk%20Sevdim
Wikipedia: https://en.wikipedia.org/wiki/Bir_Çocuk_Sevdim
You Might Also Like
Red Scarf (Al Yazmalim)
What is Fatmagul's Fault? (Fatmagulun Sucu Ne?)
The Girl I Loved (Bir Cocuk Sevdim) Gallery
The Girl I Loved (Bir Cocuk Sevdim) Tv Series Trailer (Eng Sub)
The Girl I Loved (Bir Cocuk Sevdim) Tv Series Trailer (Eng Sub)
The Girl I Loved – SoundTrack
The Girl I Loved (Bir Cocuk Sevdim) Tv Series SoundTrack