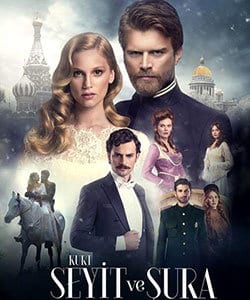 Details
Original Title: Kurt Seyit ve Sura
English Title: Kurt Seyit and Shura
Also Known As: Amor En Guerra
Genre: Drama, Romance, History
Episodes: 21
Broadcast Network: Star TV
Broadcast Period: March 4, 2014 – November 20, 2014
Production Company: Ay Yapim
Director: Hilal Saral
Screen Writer: Ece Yorenc, Melek Gencoglu, Murat Uyurkulak, Aylin Aliveren
Filming Locations: Istanbul, Turkiye; Saint-Peterburg, Russia
Synopsis
Kurt Seyit (Kivanc Tatlitug) is a womanizing lieutenant who is the first son of a rich Crimean landowner of Turkish origin. He is so handsome and successful. Shura (Farah Zeynep Abdullah), on the other hand, is the beautiful daughter of a noble Russian family. She is so naïve and beautiful.
These two young persons meet at a ball in St. Petersburg. Before Shura comes to the ball, Kurt Seyit makes a bet with his friends and tells them he will manage to kiss the first girl who enters the room. And then Shura joins the ball. When Kurt Seyit sees Shura, he develops a crush on her. At the same time, Shura falls in love with him at first sight and can't get him out of her mind.

Although Kurt Seyit and Shura start to love each other to death, they have to endure obstacles in front of their ways. Kurt Seyit has to prove his fidelity while Shura has to learn to trust him. Also, they have to act against the wishes of their families. This is because; Kurt Seyit's father wants him to get married to a Turkish girl whereas Shura's family wants her to get married to a noble man.
For this reason, they must fight for their love against the forces of family, the expectations of society and the events of history in 1920s during revolutions in Russia and Ottoman Empire.
In Kurt Seyit and Shura tv series story, you will explore the adventures of two lovers who have broken away from their magnificent lives in Russia and have been dragged to Istanbul. Will Shura believe in Kurt Seyit's fidelity? Will Kurt Seyit convince his family? Will the love between Kurt Seyit ans Shura manage to stand for all the obstacles?
Kurt Seyit and Shura Tv Series Cast
External Links
Imdb: Imdb – Kurt Seyit & Sura
Wikipedia: Wikipedia – Kurt Seyit ve Sura
Official Site:
Youtube Channel: Youtube – @kurtseyitsura
You Might Also Like
Remember Darling (Hatirla Sevgili)
Kurt Seyit and Shura Turkish Drama Trailer (with English Subtitle)
Kurt Seyit ve Şura | Promo