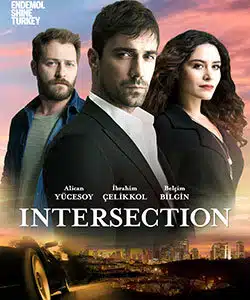 Details:
Original Title: Kordugum
English Title: Intersection
Also Known As:
Genre: Drama, Romance
Episodes: 31
Broadcast Network: Fox Tv
Broadcast Period: January 7, 2016 – October 23, 2016
Production Company: Endemol Shine Turkiye
Director: Gokcen Usta
Screen Writer: Yigit Okan
Filming Locations: Istanbul, Kocaeli, Ankara, Italy
Synopsis
Ali Nejat (Ibrahim Celikkol) is a young businessman who comes from a wealty family. Years ago, he was involved in a car accident due to his passion for high speed and caused the death of his little nephew. After this tradegy, Ali Nejat never forgives himself and cannot become close to his family ever after.
When Ali Nejat goes to Italy for a business trip, he meets a talented young doctor Naz (Belcim Bilgin) who saves the life of his close friend at the restaurant. Naz unfortunately misses her flight to Istanbul in order to take care of Ali Nejat's friend and these two have to return to Istanbul together.

Naz is married to Umut (Alican Yucesoy) who is passionate about cars and works as a car mechanic. Umut has sacrified his life for Naz's education and now, he deeply resents for being degraded and feels unhappy for disappointing his family. Naz's acquaintance with Ali Nejat not only changes her life but also changes her husband's life. Umut finally finds an opportunity to fulfill his ultimate goal of making his own automobile with Ali Nejat's financial support.
Meanwhile, Ali Nejat learns in his birthday party that he is the father of a little child Kaan. While he tries to take care of this little child, he gets great assistance of Naz and becomes closer to her as time passes.
In intersection (Kordugum) tv series story, you will explore a love triangle and the tragic life of a little child. Will Umut eventually manage to reach his aim of creating his own car? Will Naz continue to love her husband Umut and realize that she is so different from him?
Intersection Tv Series Cast
Ibrahim Celikkol as Ali Nejat Karasu
Belcim Bilgin as Naz Ozer
Alican Yucesoy as Umut Ozer
Rojda Demirer as Neslihan
Ege Aydan as Ayhan
Murat Daltaban as Oguz
Aybars Kartal Ozson as Kaan Karasu
Tulay Gunal as Feyza Karasu
Gozde Cigaci as Gokce Ozer
Mehmet Aslantug as Enver Eren
Saadet Isil Aksoy as Eylul Eren
Kaya Akkaya as Amir
Naz Elmas as Didem
Ferit Aktug as Genco
Ayda Aksel as Aysen Isleyen
Ali Tutal as Hasan
Sabriye Kara as Cahide
Tugrul Cetiner as Tarik Karasu
Tuncer Salman as Ibo
Serdar Yegin as Mert
Teoman Kumbaracibasi as Murat Seyhanli
Itir Esen as Sureyya Dereli
Zeynep Kumral as Didem
Mesut Can Tomay as Ismail
Nurcan Eren as Zehra
Yelda Alp as Aysegul
Erol Aydin as Yalcin
Nuray Erkol as Gonul
Semra San as Gizem
Cenk Kangoz as Kenan
Aysegul Cayli as Sude
Irem Senturk as Irem
Cihan Yenici as Gokhan
Mehmet Aslan as Demir
Betul Sahin as Pinar
Burcu Kara as Nihan
Gozde Mutluer as Melisa
Kubra Suzgun as Asli
External Links
Official Site: Broadcast Network
English Wikipedia:
Imdb:
Social
Instagram: Instagram – kordugumdizi
Twitter: @kordugumdizi
Facebook:
Youtube Channel: Youtube – @KordugumDizi
You Might Also Like
The End (Son)
Intersection (Kordugum) Turkish Series Trailer (with English Subtitle)
Intersection (Kordugum) Turkish Series Trailer (Eng Sub)
Intersection (Kordugum) Tv Series Trailer – 2 (with English Subtitle)
Intersection (Kordugum) Tv Series Trailer (Eng Sub)