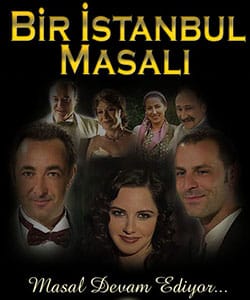 Details
Original Title: Bir Istanbul Masali
English Title: An Istanbul Fairytale
Also Known As: An Istanbul Tale (English), Stin kardia tis polis (Greece), Kolob Mansiya (Arabic)
Genre: Romance, Drama
Episodes: 71
Broadcast Network: ATV
Broadcast Period: September 18, 2003 – June 13, 2005
Production Company: TMC Film
Director: Omur Atay
Screen Writer: Gaye Boralioglu, Sertac Ergin, Gokhan Horzum, Nese Sen, Aydin Uredi
Filming Locations: Istanbul, Turkey
Synopsis
Esma (Ahu Turkpence) is the young daughter of a family working at a rich mansion. Her father Cemal (Altan Erkekli) is the chauffeur and her mother Suzan (Vahide Gordum) is the cook of Arhan family more than 30 years.
Arhan family live in a small white house built for the staff in one corner of the extensive Arhan grounds. Esma has been in love with Demir Arhan (Ozan Guven) all her life.
Demir who busily goes back and forth between adrenalin sports and love affairs has never noticed Esma, much to her dismay. Demir's business-focused older brother Selim (Mehmet Aslantug), on the other hand, manages the family business (ARC Holding Company).

Demir has taken over the business after the retirement of his father Omer (Cetin Tekindor) and tries to get used to his new position and at the same time to run their company as smoothly as possible.
When Esma returns to an attractive and sophisticated woman, this transformation not only affects Demir but also Selim.
In this story, you will explore a love triangle which is surrounded with a class difference between rich and poor families. How will the remarkable change of ugly duckling affect every member of the family? Will Esma be the part of noble and rich Arhan family? Will real love overcome all the obstacles?
An Istanbul Fairytale (Bir Istanbul Masali) Tv Series Cast
Mehmet Aslantug as Selim Arhan
Ahu Turkpence as Esma Kozan Arhan
Ozan Guven as Demir Arhan
Cetin Tekindor as Omer Arhan
Arsen Gurzap as Behiye Arhan
Altan Erkekli as Cemal Kozan
Vahide Gordum as Suzan Kozan
Ismail Hacioglu as Ozan Kozan
Yasemin Conka as Cicek Kozan
Tomris Incer as Nebile Arhan
Ergun Uglu as Teoman Arhan
Esra Ronabar as Binnur Arhan
Funda Sirinkal as Nazli Yenice
Emre Karayel as Zekeriya
Suheyla Elbas As Tatyana
Recognitions
31. Golden Butterfly Awards (2003): Best Actor (Mehmet Aslantug)
Main Characters' Other Popular Dramas
Mehmet Aslantug: Lady's Farm (Hanimin Ciftligi), Hot Target (Sicak Saatler)
Ahu Turkpence: Fame (Sohret)
Ozan Guven: My Dear Family (Canim Ailem), Second Spring (Ikinci Bahar)
External Links
Official Site: http://www.tmc.com.tr/diziler.php?diziadi=Bir%20%C4%B0stanbul%20Masal%C4%B1
English Wikipedia:
Imdb:
You Might Also Like
My Fair Lady (Gonulcelen)
Love and Punishment (Ask ve Ceza)