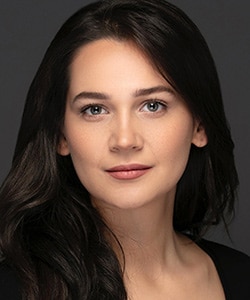 Profile
Name: Gulsim Ali Ilhan
Birthdate: February 18, 1995
Birthplace: Ruse, Bulgaria
Height: 175 cm
Eye Color: Blue
Hair Color: Black
Education: Baskent Communication Akademia – Acting and Diction (Baskent Iletisim Akademisi'nde Oyunculuk ve Diksiyon Egitimi)
Talent Agency: Icon Talent Management
Spouse:
Biography: Gulsum Ali was on 18 February 1995 in Ruse in Bulgaria. She is the daughter of a Turkish family living in Bulgaria. She knows English, Japanese, Turkish and Bulgarian. At the age of 14, she was selected as the Ford Model in the Super Model competition held in Bulgaria. She started her acting career in 2012.

Gulsim Ali Tv Series / Movies
2012 – Last Summer: Balkans 1912 (Son Yaz: Balkanlar 1912) (as Ayse)
2015 – Last Exit (Son Cikis) (as Ege)
2016 – Seddulbahir 32 Saat (as Zeliha)
2016 – Hanim Koylu (as Ilkgun)
2016 – 2018 Resurrection Ertugrul (Dirilis Ertugrul) (as Aslihan Hatun)
2019 – Face Off (Yuzlesme) (as Aysegul Hanimeli)
2019 – 2020 The Last Emperor (Payitaht Abdulhamid) (as Gulcemal)
2020 – An Anatolian Tale (Gonul Dagi) (as Dilek)
Awards
From an Interview with Gulsum Ali
At the heart of the story of An Anatolian Tale (Gonul Dagi), there is "chasing your dreams." So, how long did you run after your dreams?
At a young age, I learned to pursue my dreams and I did not give up. I ran 569 km between Ruse (where I was born) and Istanbul in 10 years. Sometimes, I sat around waiting to get things back on track. Although we were Turkish, I had an accent because I was born and raised in Bulgaria. It took me a while to fix my accent but I never gave up and I worked hard. Sometimes, I sat and cried, but every time I wiped away my tears and kept running. So, whenever someone asks me for a life advice, I always say the same thing: "Whatever happens, don't stop chasing your dreams, get up and keep running even if you are stuck."
While emotions are at their purest in the series, it becomes quite difficult to see them around us anymore. We are even moved when we see what is supposed to happen. What do you thinmk about this?
In our time, real life unfortunately is disappeared behind computer keyboards. People started to write as if they are who they have wanted to be, not as they are. They lost their reality. That is why we get emotional when we come across something that is real. We used to come together to share joy and sadness, and now we are content to post on social media.
People use the phrases such as "pure, pure beautiful" when they write comments about you. How do you define beauty?
The concept of beauty is different for everyone. Personally, from time to time, when I look in the mirror, there are moments when I do not like myself or when I see my flaws. I am one of those who believe that human's beauty is hidden inside. External beauty is temporary, it disappears over time, but inner beauty is permanent. It does not age and it does not wrinkle. In the meantime, I would like to thank everyone who said they found me "innocent, pure and beautiful".
Social
Instagram: Official Instagram Account
Twitter: Official Twitter Account
Facebook:
E-Mail: Contact
Trivia
Body Type:
Skills:
Zodiac Sign: Aquarius
Blood Type:
Hobbies:
Weight:
Gulsim Ali Gallery