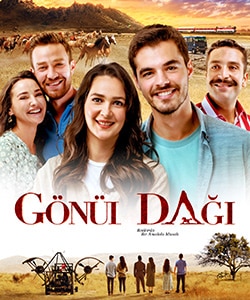 Details
Original Title: Gonul Dagi
English Title: An Anatolian Tale
Also Known As:
Genre: Family, Comedy, Romance
Episodes: 51+ (each episode is 150 minutes)
Broadcast Network: TRT 1
Broadcast Period: 17 October 2020 – Present
Production Company: Kopru Film
Director: Yahya Samanci
Screen Writer: Ali Asaf Elmas, Mustafa Becit, Teoman Gok
Filming Locations: Sivrihisar, Eskisehir, Turkey
Synopsis
An Anatolian Tale (Gonul Dagi) is based on stories of Mustafa Ciftci.
Taner (Berk Atan) is a young guy who lives in a small town called Gedelli in the middle of Turkey. He has a cozy life together with his family.
Even though Taner used to be a successful student, he cannot attend to the Science High School after his father passed away. At a very young age, he becomes the head of the family and starts to support his mother, his elder sister and his nephews.

However, Taner never gives up his passion for science. He pursues his dreams to become an inventor with the help of his two cousins Veysel (Semih Erturk) and Ramazan (Cihat Suvarioglu).
Taner has been in love with his childhood sweetheart Dilek who is the daughter of the school teacher. Even though his childhood sweetheart leaves the town years ago, Taner never forgets her and aims to find her eventually.
Years later, Dilek (Gulsim Ali Ilhan) returns to Gedekli as a geology engineer. She has a five-week duty to investigate the rock and soil structure in the town.
Whenever Taner bumps into Dilek, he decides to win the heart of his childhood sweetheart. He knows that it would not be so easy because Dilek is a successful engineer while he does not have a stable job.
Taner and his cousins Veysel and Ramazan have been working on an airplane. They try to do their best to make their invention a success. In their spare times, they work on their inventions.
Taner wants be successful in order to impress Dilek. At the same time, Ramazan wants to attract a beautiful girl Asuman (Hazal Caglar) who is the daughter of mayor.
An Anatolian Tale (Gonul Dagi) tv series story is about 3 cousins who pursue their dreams and try to achieve the impossible despite all obstacles. Will Taner manage to forget Dilek or win her heart? Will Taner, Ramazan and Veysel manage to fly their airplane? Will Taner, Ramazan and Taner become a successful inventor?
An Anatolian Tale (Gonul Dagi) Tv Series Cast
Additional Cast Members
Ali Dusenkalkar as Duguncu Muammer Kaya
Erdal Cindoruk as Huseyin Kaya
Sebnem Dilligil as Halime Kaya
Feyza Isik as Dondu Kaya
Gulhan Tekin as Gunsil Kaya
Yavuz Sepetci as Ciritci Abdullah
Nuri Gokasan as Disci Musa
Eser Eyuboglu as Selami Ferses
Huseyin Sevimli as Rifat
Cigdem Aygun as Keriman
Cemre Melis Cinar as Fadime
Utku Ates as Serdar
Zumre Megreli as Elif
Guliz Aybey as Zeynep
Samet Arda Mercan as Erkan
Ulviye Karaca as Gulsum
Ali Toptas as Ismet
Nihan Durukan Yapici as Kamuran
Beril Karademir as Sedef
Sercan Inceer as Seyfettin
Characters:
External Links
Official Site: https://www.trt1.com.tr
English Wikipedia:
Imdb:
Social
Instagram: https://www.instagram.com
Twitter: https://twitter.com
Facebook: https://www.facebook.com
Youtube Channel: https://www.youtube.com
You Might Also Like
Between Us (Aramizda Kalsin)
My Dear Family (Canim Ailem)
An Anatolian Tale (Gonul Dagi) Tv Series Trailer (with English Subtitle)
Gönül Dağı Yakında TRT1'de!
An Anatolian Tale (Gonul Dagi) Turkish Drama Trailer 2 (with English Subtitle)
Gönül Dağı | 1. Bölüm Fragmanı