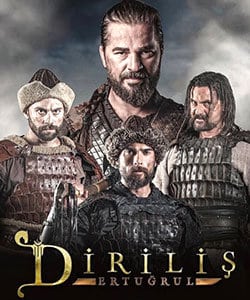 Details
Original Title: Dirilis Ertugrul
English Title: Resurrection Ertugrul
Also Known As:
Genre: Historical, Romance, Drama
Episodes: 150
Broadcast Network: TRT1
Broadcast Period: December 10, 2014 – May 29, 2019
Production Company: Tekden Film
Director: Metin Gunay
Screen Writer: Mehmet Bozdag, Atilla Engin
Synopsis
The story takes places in 13th century and tells a story of Ertugrul who is the father of the Osman I, the founder of the Ottoman Empire.
400 large nomad tents are settled in Anatolia but get through a difficult time due to famine. All these nomads want to migrate to another place where they can have a better life.
Suleyman Shah who is the leader of this group (Kayi clan) wants to give a better life for his people but he does not want to make a quick decision without considering all side effects.
Because of this reason, some nomads start to blame him for not being able to be a good leader. Even his elder ambitious son Gundogdu (Kaan Tasaner) starts to question his decisions. However, his younger son Ertugrul trusts his father decisions all the time and does not want to be involved in clan issues.

Ertugrul (Engin Altan Duzyatan) is a young and brave man who often goes to hunting with his three close men. One of these days, he saves the life of a young girl named Halime (Esra Bilgic) and her family from Temple Knights. He brings them to his own clan without knowing their true identity.
Halime and her family belong to Seljuk Empire noble family and are to be killed by the Empire if Ertugrul has not saved them. Due to the fear of being caught, they do not reveal their true identity. However, their arrival brings new difficulties to Kayi clan: now they have to fight against Seljuk Empire if they do not let their guests go and they have to fight against Temple Knights who are looking for revenge.
Meanwhile, Ertugrul bears the burden of his clan on his shoulders. He has to find a new land for his clan.
For this reason, Ertugrul and his three men go to Halep in order to make an agreement with Halep Shah: they will want a new land in exchange for their assistance to the Halep Shah against Temple Knights and other non-Muslims.
Ertugrul wants to be successful in this journey and wants to return his clan immediately to see his first love Halime again.
In resurrection ertugrul (dirilis ertugrul) tv series story, you will explore how one man can change the destiny of the whole world. You will see the story of Ertugrul and his war against Temple Knights and Mongols which will lead the resurrection of Ottomon Empire. Will Ertugrul manage to gather all Turks under a single roof? Will Ertugrul and his elder brother Gundogdu start to fight for throne and become two enemies? Will Ertugrul and Halime get through all difficulties and flourish their pure love?
Resurrection Ertugrul (Dirilis Ertugrul) Tv Series Cast
Engin Altan Duzyatan as Ertugrul
Esra Bilgic as Halime
Kaan Tasaner as Gundogdu
Cengiz Coskun as Turgut
Hande Subasi as Aykiz
Serdar Gokhan as Suleyman Shah
Hulya Darcan as Hayme Ana
Didem Balcin as Selcan
Burcu Kiratli as Gokce
Cavit Cetin Guner as Dogan
Nurettin Sonmez as Bamsi Beyrek
Osman Soykut as Ibn-i Arabi
Mehmet Cevik as Deli Demir
External Links
Imdb:
Wikipedia:
Official Site: http://www.trt1.com.tr/diziler/dirilis-ertugrul
You Might Also Like
Magnificent Century (Muhtesem Yuzyil)
Ottomon Empire: Rebellion (Bir Zamanlar Osmanli: Kiyam)