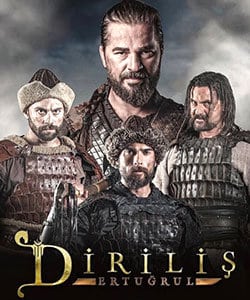 Details
Original Title: Dirilis Ertugrul
English Title: Resurrection Ertugrul
Also Known As:
Genre: Historical, Romance, Drama, Action
Episodes: 150
Broadcast Network: TRT1
Broadcast Period: December 10, 2014 – May 29, 2019
Production Company: Tekden Film
Director: Metin Gunay
Screen Writer: Mehmet Bozdag, Atilla Engin
Filming Locations: Riva, Istanbul, Turkey; Nevsehir, Turkey
Synopsis
The story takes places in 13th century and tells a story of Ertugrul who is the father of the Osman I, the founder of the Ottoman Empire.
400 large nomad tents are settled in Anatolia but get through a difficult time due to famine. All these nomads want to migrate to another place where they can have a better life.
Suleyman Shah who is the leader of this group (Kayi clan) wants to give a better life for his people but he does not want to make a quick decision without considering all side effects.
Because of this reason, some nomads start to blame him for not being able to be a good leader. Even his elder ambitious son Gundogdu (Kaan Tasaner) starts to question his decisions. However, his younger son Ertugrul trusts his father decisions all the time and does not want to be involved in clan issues.

Ertugrul (Engin Altan Duzyatan) is a young and brave man who often goes to hunting with his three close men Turgut (Cengiz Coskun), Bamsi Beyrek (Nurettin Sonmez), and Dogan (Cavit Cetin Guner). One of these days, he saves the life of a young girl named Halime (Esra Bilgic) and her family from Temple Knights. He brings them to his own clan without knowing their true identity.
Halime and her family belong to Seljuk Empire noble family and are to be killed by the Empire if Ertugrul has not saved them. Due to the fear of being caught, they do not reveal their true identity. However, their arrival brings new difficulties to Kayi clan: now they have to fight against Seljuk Empire if they do not let their guests go and they have to fight against Temple Knights who are looking for revenge.
Meanwhile, Ertugrul bears the burden of his clan on his shoulders. He has to find a new land for his clan.
For this reason, Ertugrul and his three men go to Halep in order to make an agreement with Halep Shah: they will want a new land in exchange for their assistance to the Halep Shah against Temple Knights and other non-Muslims.
Ertugrul wants to be successful in this journey and wants to return his clan immediately to see his first love Halime again. He makes a good impression on Halep Shah and eventually, gets a land for Kayi tribe. This new land has fertile soils but very close to templars.
In their new land, Ertugrul and Kayi tribe need to fight against templars and the crusaders. The pope and templars are preparing for the sixth crusade (that will take place during the period of 1228-1229). With the aim of recapturing the city of Jerusalem, templars try to weaken the Seljuk Empire. They try to abolish the unity in the muslim world and set Turkmens against Anatolian Seljuks.
In resurrection ertugrul (dirilis ertugrul) tv series story, you will explore how one man can change the destiny of the whole world. You will see the story of Ertugrul and his war against Temple Knights and Mongols which will lead the resurrection of Ottoman Empire. Will Ertugrul manage to gather all Turks under a single roof? Will Ertugrul and his elder brother Gundogdu start to fight for throne and become two enemies? Will Ertugrul and Halime get through all difficulties and flourish their pure love?
Resurrection Ertugrul (Dirilis Ertugrul) Tv Series Cast
Additional Cast Members
Levent Oktem as Ustad-i Azam / Petruccio Manzini
Cengiz Coskun as Turgut Alp
Cavit Cetin Guner as Dogan Alp
Nurettin Sonmez as Bamsi Alp
Baris Bagci as Baycu Noyan
Ayberk Pekcan as Artuk Bey
Osman Soykut as Muhyiddin Ibnu'l Arabi
Ugur Gunes as Tugtekin Bey
Burcu Kiratli as Gokce Hatun
Murat Garipagaoglu as Emir Sadeddin Kopek
Kursat Alniacik as Ural Bey
Cem Ucan as Aliyar Bey
Gulsim Ali as Aslihan Hatun
Gulcin Santircioglu as Colpan Hatun / Ekaterina
Cagdas Onur Ozturk as Tekfur Vasilius
Cemal Hunal as Tekfur Ares / Ahmet Alp
Burak Hakki as I. Alaeddin Keykubad
Ilker Aksum as Dragos
Hande Soral as Ilbilge Hatun
Ali Ersan Duru as Beybolat Bey / Albasti
Arda Anarat as Young Dundar Bey
Batuhan Karacakaya as Dundar Bey
Gokhan Karacik as Dervis Ishak
Celal Al as Abdurrahman Alp
Mehmet Cevik as Deli Demir
Turgut Tuncalp as Afsin
Tolga Sala as Hamza Alp
Burak Temiz as Yigit (Sehzade, prince of Seljuk Empire)
Huseyin Ozay as Korkut Bey
Hamit Demir as Akcakoca
Fahri Oztezcan as Ilyas Fakih
Sedat Erdis as Alpargu
Sedat Savtak as Sehzade Numan
Burak Cimen as Komutan Nasir
Zeynep Aydemir as Eftelya
Characters
Ertugrul (Engin Altan Duzyatan):
Ertugrul is the son of Suleyman Shah. Ertugrul is a brave warrior who can do anything for cause of justice and for the good of his people. Ertugrul and his warrior friends ride a horse to hunt and look for fertile lands for Kayi tribe. While he is hunting, Ertugrul comes across to Halime and saves her life from templars. After then, he becomes templars' enemy and needs to fight against them in order to protect his people. Halime and Ertugrul fall in love with each other at first sight and endure many difficulties in order to get married.
Halime (Esra Bilgic):
Halime is a beautiful young girl who is the daughter of a fugitive Turkmen prince Numan. Halime is saved by Ertugrul while she and her family are kept as hostages by templars. Halime and Ertugrul fall in love with each other at first sight and endure many difficulties in order to get married. Halime has a strong personality and she can overcome any problem through her patience and intelligence. Since she comes from a noble family, Halime is gracious and firm.
Gundogdu (Kaan Tasaner):
Gundogdu is Suleyman Shah's eldest son and Selcan Hatun's husband. Gundogdu is an ambitious and clever man who wants to be the leader of the Kayi tribe after his father. He is considered as arrogant and greedy for power by his father. His biggest strength is his patience and intelligence but he is manipulated easily by other people. Gundogdu is supported by Kurdoglu.
Suleyman Shah (Serdar Gokhan):
Suleyman Shah is the leader of the Kayi tribe and father of Ertugrul, Gundogdu, Sungurtekin, and Dundar. He is a wise leader who wants justice and the wellbeing of his people. He respects for traditions and never takes steps backward when he says "it is a tradition". Suleyman Shah is a strong leader and as well as a merciful father. He sometimes does not refrain from taking harsh measures for the good of his people. Even though he makes the ultimate decisions for his tribe, he considers the advice of his council.
Turgut Alp (Cengiz Coskun):
Turgut is a brave warrior and close friend of Ertugtul. He is engaged to Aykiz and dreams of getting married soon. He is one of Ertugrul's loyal friends and fights against Kayi tribe's enemies.
Bamsi Alp (Nurettin Sonmez):
Bamsi is a brave warrior and close friend of Ertugtul. He is one of Ertugrul's loyal friends and fights against Kayi tribe's enemies.
Dogan Alp (Cavit Cetin Guner):
Dogan is a brave warrior and close friend of Ertugtul. He is one of Ertugrul's loyal friends and fights against Kayi tribe's enemies.
Hayme (Hulya Dercan):
Hayme is the wife of Suleyman Shah and the mother of Ertugrul, Gundogdu, Sungurtekin, and Dundar. She is a strong woman who is well respected by the people of Kayi tribe. Hayme organizes the work of handiwork in the tribe such as carpet weaving and printed fabric.
Selcan (Didem Balcin):
Selcan is Gundogdu's wife and Gokce's older sister. After her father is killed by Suleyman Shah due to his treachery, Selcan wants revenge. She is ambitious, sharp-tongued, and sneaky. She does anything for her husband's success and tries to manipulate people as her sleeves. Selcan wants her sister Gokce to get married to Ertugrul so that she and her sister can take a revenge from Suleyman Shah.
Aykiz (Hande Subasi):
Aykiz is the daughter of Deli Demir and the fiancée of Turgut. She has a good personality and wants to get married to Turgut when everything is settled. Aykiz becomes a close friend of Halime.
Gokce (Burcu Kiratli):
Gokce is Selcan's sister. After her parents passed away, she has been raised by her sister. Gokce lives in Suleyman Shah's tent together with her sister. She is silent, introverted, and respectful. She has been in love with Ertugrul for a long time but does not have courage to reveal her feelings. Suleyman Shah, Hayme and Selcan approve the marriage of Gokce and Ertugrul.
Kurdoglu (Hakan Vanli):
Kurdoglu is a long-time friend of Suleyman Shah. When Suleyman Shah leaves Kayi tribe for a duty, Kurdoglu becomes the leader on behalf of him. Even though Suleyman Shah saved his life, Kurdoglu starts to betray him and develops a partnership with templars in order to gain more power. He supports Gundogdu and tries to manipulate him to take over Suleyman Shah.
Titus (Serdar Deniz):
Titus is the commander of templars located in Antakya, the southern part of Anatolia. When Ertugrul kills his brother, Titus wants to take his revenge and wipe out Kayi tribe. He is a ruthless soldier and disguises in various personalities to reach his target. Titus collaborates with Kurdoglu from Kayi tribe and commander Kara Toygar from Seljuk Empire.
Numan (Sedat Savtak):
Numan is the father of Halime and Yigit. He is a prince (sehzade) of Seljuk Empire. Since he comes from a noble family, he becomes a target of Seljuk Empire's enemies. Templars and Mogols want to use him in order to control Seljuk Empire. Numan gives up his rights and disguises his family background in order to save his family. He lives as a fugitive together with his daughter Halime and his little prince Yigit.
Resurrection Ertugrul (Dirilis Ertugrul) Turkish Drama Relationship Chart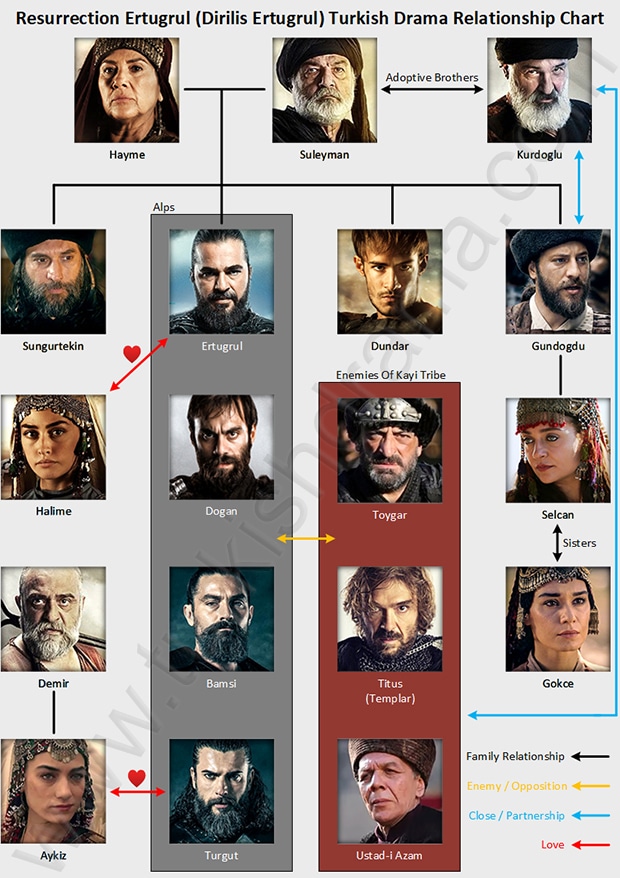 External Links
Imdb:
Wikipedia:
Official Site: Broadcast Network
You Might Also Like
Magnificent Century (Muhtesem Yuzyil)
Ottoman Empire: Rebellion (Bir Zamanlar Osmanli: Kiyam)