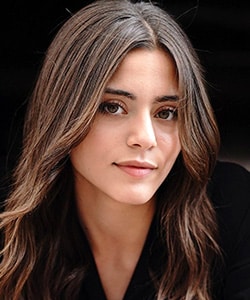 Profile
Name: Sila Turkoglu
Birthdate: April 18, 1999
Birthplace: Izmir, Turkey
Height: 168 cm
Eye Color: Green
Hair Color: Brown
Education: Bornova Hatice Guzelcan Anatolian High School (Bornova Hatice Guzelcan Anatolian High School)
Talent Agency: Tunay Management
Spouse:
Biography: Sila Turkoglu was born in 18 April 1999 in Izmir. She made her debut with her role as Alev at Turkish series Aglama Anne when she was 19 years old. After graduating from Bornova Hatice Guzelcan Anatolian High School, she took acting lessons instead of going to college.
Sila Turkoglu Tv Series / Movies
2018 – Don't Cry Mom (Aglama Anne) (as Alev)
2019 – The Promise (Yemin) (as Suna)
2020 – Legacy (Emanet) (as Seher)

Awards
From Interview of Sila Turkoglu
How did you decide to be an actress?
I tried so many things in different sectors. I was interested in paintings and volleyball. But, I never said that "I can do this until the end of my life." When I was going to high school, I started to take part in school theatre club. I liked it so much to become on the stage and to hear all the applause. After then, I decided to do acting.
Do you get bored so often?
Yes. Normally I cannot concentrate on so easily, but it is different for my work. I never get bored when acting.
How did you transfer from tv series The Promise (Yemin) to Legacy (Emanet)?
I had fewer responsibilities when acting in The Promise (Yemin). I worked so hard and took attention of my director and producer. Then, I started to have a lead role in Legacy (Emanet).
If you was not an actress, what would you do?
I would study law. I would be a lawyer because I love it.
Do you get along well with your acting partner Halil Ibrahim Ceylan?
We are both very energetic. We both try to look positively. We try to do a good job through supporting each other. Sometimes, while shooting a scene, we can say "why are you not doing it like that, you have to do like this". At that moment, we can differ a little bit but other than that, we get along well.
How is your set life?
It is peaceful, happy, and a family-like. We see each other more than we see our families. We all do our job with love.
Are you affected by negative comments?
Never. I am open to critics.
Are you at peace with yourself?
I was not actually, when I was at high school. I was not wearing colorful clothes for example. Then, I realized that it was due to the people around me. Whenever I stopped seeing them, I realized that I was happy all of a sudden. Right now, I see negative comments but I am still happy. When I look at the mirror, I say that "I am glad you are like this, with your flaws."
What is love for you?
I love myself when I am in love. I say whatever I want to say. Love makes me happy, motivated and beautiful. When I am in love, I like to give everything to my partner. I can do anything to make him happy. I do not know whether it is correct but I want to take my partner at the center of my life.
How is your friendship?
I am supportive all the time. But, I do not have time to use my phone after starting Legacy (Emanet). I can only reply back to my messages after 3-4 hours. For the last 1 year, I am not able to become a good friend. In normal times, I always want to be my friends' side and I am usually the leader of the group.
What makes you angry?
Injustice.
What is your weakest point?
Dogs and kids. When I see a helpless person, I become very sad. I immediately want to do something.
Are you romantic?
It depends. I do not like to be very/very romantic.
Do you have a strong memory?
No, not at all. I am very forgetful. Everybody gets surprised, they say that "how do you memorize the script?". I can memorize the script whenever I read it but I do not remember what I have eaten that day.
What things do you pay much money?
Food and beauty products..
Social
Instagram: https://www.instagram.com/silaaturkoglu/
Twitter:
Facebook:
E-Mail:
Trivia
Body Type:
Skills:
Zodiac Sign: Aries
Blood Type:
Hobbies:
Weight: 54 kg
Sila Turkoglu Gallery
What happened behind the set – The unforgettable scene
Emanet'in Seher'i Sıla Türkoğlu açıkladı! Aşk | Set arkasında yaşananlar | Unutamadığı o sahne