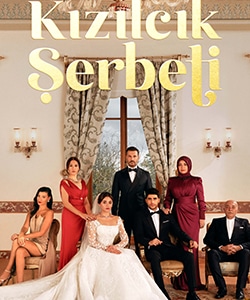 Details
Original Title: Kizilcik Serbeti
English Title: Cranberry Sorbet
Also Known As: One Love
Genre: Drama, Family, Romance
Episodes: 23+ (each episode is 140-150 minutes)
Broadcast Network: Show TV
Broadcast Period: October 28, 2022 – present
Production Company: Gold Film
Director: Hakan Kirvavac
Screen Writer: Melis Civelek
Filming Locations: Istanbul, Turkiye
Synopsis
Kivilcim (Evrim Alasya) is a single mother who has two daughters Doga (Sila Turkoglu) and Cimen (Selin Turkmen). She is a strong and independent woman who works as a school manager. She wants her daughters to have a good education, a good job, and a career.
Kivilcim lives together with her mother, and two daughters. Her life turns upside down when her elder daughter Doga discloses that she wants to get married to a conservative man.
Doga is a university student who studies dentistry. She has been dating Fatih (Dogukan Gungor) who is a businessman. Doga and Fatih have different social backgrounds and for this reason, it is not easy to disclose their relationship to their families.

When Doga learns that she is pregnant, she decides to get married to Fatih even though she knows that it would be a life-changing decision. Doga and Fatih have nothing to do but disclose their relationship to their families. Even though their families are totally different in their life views, they believe that they would be happy if they continue to love each other without listening to their families.
Doga decides to introduce Fatih to her family but never says that his boyfriend's family is very conservative. She tries to postpone disclosing this fact as much as possible.
After Kivilcim meets her future son-in-law, she understands that he is not appropriate for her family. She is determined that Fatih cannot make her daughter happy. At the same time, Kivilcim wants her daughter to finish her university education first before getting married.
Kivilcim is very attached to modern principles. She has raised her daughters with these modern principles. She thinks that her daughter should marry a man who shares similar principles. She thinks that a young couple cannot become happy if they have different worldviews. Hence, she does her best to persuade her daughter to end her relationship with Fatih.
On the other hand, Fatih is very attached to conservative values. His father Abdullah is a very strong father who wants everyone in the family to act in accordance with his wishes. He has a very successful family business and works together with his younger brother Omer (Baris Kilic) and his two sons Fatih and Mustafa (Emrah Altintoprak). At the same time, Abdullah (Settar Tanriogen) wants all her sons to live in the same house even if they are married.
When the families learn that Doga is pregnant, they approve of this marriage even though they do not want to. Fatih's family goes to Doga's family to ask for the girl's hand. Kivilcim is shocked when she personally meets her co-in-laws. Modern and secular Kivilcim finds herself hopeless when she meets Fatih's religious family, with a headscarf-wearing mother and sister.
Cranberry Sorbet (Kizilcik Serbeti) tv series story is about a young girl Doga who falls in love with Fatih from a conservative family whose values conflict with those of her mother. Will Doga and Fatih become happy even though they come from different backgrounds? Will Kivilcim eventually approve of her daughter's marriage? Will Kivilcim get along with her sisters-in-law? Will Doga get used to her new life?
Cranberry Sorbet (Kizilcik Serbeti) Tv Series Cast
Additional Cast Members
Feyza Civelek as Nilay Unal
Emrah Altintoprak as Mustafa Unal
Aliye Uzunatagan as Sonmez Arslan
Selin Turkmen as Cimen Arslan
Soydan Soydas as Kayhan Korkmaz
Ceren Yalazoglu Karakoc as Nursema Unal
Feray Darici as Fatma
Ozlem Cakar as Sevilay
Oral Ozer as Can
Rahimcan Kapkap as Metehan Unal
Serkan Tinmaz as Umut
Tuana Gizem Uzunlar as Yeliz
Murat Tavli as Ihsan
Sevim Erdogan as Leman
Asli Obekci as Buket
Alara Bozbey as Ecem
Characters:
Omer is the brother of Abdullah. He is a successful businessman who runs the international business branch of family business. He is more educated than his brother as he studied abroad. He got married to Sema due to his father's pressure. He has a teenage son named Metehan from this marriage. Omer has been trying to end his marriage for 3 years but cannot persuade his wife. Omer is understanding and respectful, and he is a good father.
Kivilcim is the mother of Doga. Since she got divorced from her husband 5 years ago, she has been living together with her mother, and two daughters. She works as a school manager and is famous for her stance in professional life and for maintaining discipline in school. She is very attached to her modern principles. She is highly dominant, organized, systematic, and punctual. She believes that every woman has to be financially independent. She wants her daughters to have a good education, a good job, and a career.
Abdullah is the eldest in the family and has a final say. He is married to Pembe and has three children Mustafa, Nursema, and Fatih. He is the head of the family business. He is a good family man who is attached to his wife and children. Abdullah has a conservative worldview.
Doga is the eldest daughter of Kivilcim. Like her mother, she is idealistic and hardworking. She studies at the faculty of dentistry. At first, she hides her relationship with Fatih due to her fear of her mother. Like her sister, she is also afraid of his mother. Doga has been raised in a modern family and has difficulty getting used to her new life.
Fatih is the son of Abdullah and Pembe. He is respectful and hardworking. He is very successful in the family business. Compared to his brother, he is respected by his parents. Fatih finds himself in the middle of his family and his wife.
Pembe Unal (Sibel Tascioglu):
Pembe is married to Abdullah and has three children Mustafa, Nursema, and Fatih. Even though she got married in an arranged marriage, she has a lovely marriage. For Pembe, life consists of her husband and her children. She does not hesitate to make sacrifices for the happiness of his children. She is a constructive, smiling, meticulous, and organized woman.
Alev is the sister of Kivilcim. She is a beautiful young woman. She owns a wedding organization company. She is a flighty type. She is cheerful, fun, humorous, and easygoing. She has a different perspective on life and does not take many things seriously. She is outspoken and does the first thing that comes to mind.
Nilay is the wife of Mustafa. She is jealous, sharp-tongued, and thoughtless.
Mustafa Unal (Emrah Altintoprak):
Mustafa is the eldest son of Abdullah and Pembe. Even though he is the first child in the family, he is not respected by his parents. Mustafa is a slow learner and can be easily deceivable. Because of this reason, his father does not give important tasks to him at the company.
Nursema Unal (Ceren Yalazoglu Karakoc):
Nursema is the only daughter of Abdullah and Pembe. She studied at a university in the USA. Even though she has a college degree, she does not work and spends all her time at home. She is silent and conservative.
Umut (Serkan Tinmaz):
Umut is a business partner of Alev. He has been raised with modern values. He is understanding and friendly.
Cimen Arslan (Selin Turkmen):
Cimen is the daughter of Kivilcim. She is a high school student. She goes to high school where her mother is a manager. She is very close to her sister Doga.
Metehan Unal (Rahimcan Kapkap):
Metehan is the son of Omer. He goes to high school where Kivilcim is a manager. He lives together with his father. He supports his father's divorce decision and just wants his parents to become happy.
External Links
Official Site: Broadcast Network
English Wikipedia:
Imdb:
Social
Instagram: @kizilcikserbetitv
Twitter: @kizilcikshowtv
Facebook: kizilcikserbetitv
Youtube Channel: @kizilcikserbetidizi
You Might Also Like
Peace Street (Huzur Sokagi)
Cranberry Sorbet (Kizilcik Serbeti – One Love) Turkish Drama Trailer (with English Subtitle)
Cranberry Sorbet (Kizilcik Serbeti – One Love) Turkish Drama Trailer (Eng Sub)