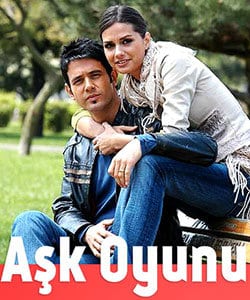 Details
Original Title: Ask Oyunu
English Title: The Game of Love
Also Known As:
Genre: Romance, Comedy
Episodes: 47
Broadcast Network: Kanal D (1-24 episodes), Atv (25-47 episodes)
Broadcast Period: June 28, 2005 – 2006
Production Company: Medyapim
Director: Bulent Isbilen
Screen Writer: Cem Gorgec, Baris Erdogan
Filming Locations: Istanbul, Turkey
Synopsis
Sarp (Keremcem) is a rich, young and handsome man who is wominezer. His parents do not like his life style and want him to settle back. They want him to get married Yelda (Belit Ozukan) who also comes from a rich family.
On the other hand, Ekin (Yasemin Ergene) is a poor suburban girl who works in a factory to support her poor family. One day, out of pure coincidence, Ekin and Sarp come across and decide to make a marriage aggreement.
Sarp does not want to get married Yelda and he wants his freedom back. Meanwhile, Ekin wants to finance her family's monetary needs. Through fake marriage, both Sarp and Ekin will be happy.
This is because, Sarp will get rid of his parents's pressure while continuing his night-life and at the same time, Ekin will get money from Sarp while pretending his wife. However, they do not consider one thing: love. Eventually, they will fall in love and this love will affect everyone.

In the game of love (ask oyunu) tv series story, you will watch pure love and comedy at the same time. Will Ekin and Sarp reveal their love to each other? Will their families discover the marriage agreement between Sarp and Ekin? How will Ekin's life be affected when she enters the lives of rich people?
The Game of Love (Ask Oyunu) Tv Series Cast
Yasemin Ergene as Ekin Serbest
Keremcem Duruk as Sarp Teksoy
Kuzey Vargin as Orhan Teksoy
Gonen Bozbey as Feryal Teksoy
Tardu Flordun
Aydogan Oflu as Kurti Serbest
Deniz Ozerman as Gonul Serbest
Ozan Uygun as Muzo Serbest
Belit Ozukan as Yelda Teksoy
External Links
Official Site: http://medyapim.com/productions/ask-oyunu/
English Wikipedia:
Imdb:
Youtube: https://www.youtube.com/channel/UCVWoL__x9ez4ofSI014wkUA
You Might Also Like
Accidental Husband (Zoraki Koca)
Storm (Firtina)