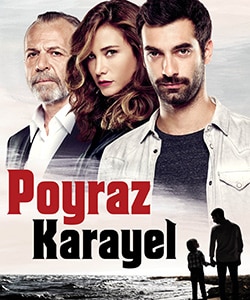 Details
Original Title: Poyraz Karayel
English Title: For My Son
Also Known As:
Genre: Romance, Drama
Episodes: 82
Broadcast Network: Kanal D
Broadcast Period: January 7, 2015 – March 1, 2017
Production Company: Limon Film
Director: Cagri Lostuvali
Screen Writer: Ethem Ozisik
Synopsis
Poyraz Karayel (Ilker Kaleli) is a police officer who lives with his son happily. While he is fighting against smuggling, he finds himself in the middle of a trap. He is suspended unjustly because of a crime that he has not committed. He is imprisoned for one year and for this reason, he has lost his son's custody to his father-in-law.
In summary, Poyraz has a life full of contrasts just like his name: Poyraz (northeast wind) Karayel (northwest wind).

After one year, when Poyraz gets out of prison, he has no hope left. He is not a police officer anymore and he has no right to get back his son's custody because he does not have a stable job. He starts to work as a taxi driver and at the same time, he follows secretly Istanbul's biggest mafia leader Bahri (Musa Uzunlar). He informs the chief police regularly about mafia leader's moves.
One day, Poyraz saves mafia leader's life in the middle of the gunfight and earns his trust although he has not meant to do it. As a result, he gets a job offer from mafia leader. Due to his agreement with the chief police, he joins to the mafia in order to get his son from his father-in-law.
Meanwhile, Poyraz bumps into Aysegul (Burcin Terzioglu) who is a beautiful young doctor. They start to fall deeply into each other at the first sight.
Poyraz is unaware of the fact that Aysegul, with whom he has fallen in love, is the daughter of the godfather Bahri.
In for my son (poyraz karayel) tv series story, you will explore the love story of two young people who are destined to each other but are also connected to mafia relations. Will Poyraz get the custody of his son from his father-in-law? Will Aysegul learn the fact that Poyraz is working together with his father? Will Poyraz destroy the biggest godfather of Istanbul or will he turn into a mafia?
For My Son (Poyraz Karayel) Tv Series Cast
Ilker Kaleli as Poyraz Karayel
Burcin Terzioglu as Aysegul
Musa Uzunlar as Bahri Umman
Fatih Donmez as Yavuz Sayguner
Emirhan Akbaba as Isa
Gulcin Hatihan as Umran
Ismail Duvenci as Cevher Albay
Ata Berk Mutlu as Sinan Karayel
Cem Cucenoglu as Tas Kafa
Ece Ozdikici as Songul
Ayda Aksel as Nevra Sayguner
Hare Surel as Meltem Karayel
Idil Firat as Despina Petridis Umman
Funda Eryigit as Eda Bozkurt
Ilker Aksum as Cinar
Celil Nalcakan as Zulfikar
Ali Il as Sadrettin Umman
External Links
Official Site: https://www.kanald.com.tr/poyraz-karayel
English Wikipedia:
Imdb:
You Might Also Like:
Karadayi
Ezel