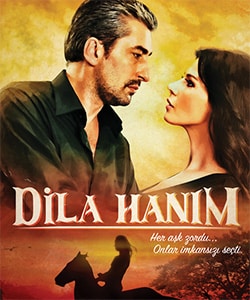 Details
Original Title: Dila Hanim
English Title: Dila
Also Known As: Lady Dila, دیلا خانم
Genre: Romance, Drama
Episodes: 62
Broadcast Network: Star Tv
Broadcast Period: September 14, 2012 – April 25, 2014
Production Company: Gold Film
Director: Nihat Durak, Aydin Bulut, Onur Tan
Screen Writer: Zulkuf Yucel
Synopsis
Dila (Hatice Sendil) is a beautiful bride of Barazoglu family. Her life turns upside down when her lovely husband is killed by the older son of the Karadagli family, Riza (Erkan Petekkaya).
Dila swears to take revenge of her husband and swears to kill Riza. She moves out Istanbul and starts to live in a big farm house of her father-in-law in order to exact her vengeance.
When Riza meets Dila, he is immediately drowned to her without knowing that she comes from Barazoglu family. At the same time, Dila falls in love with Riza but she does not know that Riza is the killer of her ex-husband.

In dila tv series story, you will explore the impossible love of two proud persons who come from opposing families. Will Dila learn that Riza is the one who has killed her ex-husband? Will Dila and Riza manage to restrain their love? Will the past be forgotten?
Dila Tv Series Cast
Erkan Petekkaya as Riza
Hatice Sendil as Dila
Hulya Darcan as Melike
Necip Memili as Azer
Ayfer Donmez as Fatma
Yonca Cevher Yenel as Sultan
Ozlem Tokaslan as Hayriye
Makbule Sitare Akbas as Yasemin
Ali Dusenkalkar as Kahya Canip
Huseyin Soysalan as Haydar
Didem Balcin as Arzu
Koray Sahinbas
Bengu Ozturk as Canan
Ozan Cobanoglu as Serdar
External Links
Official Site: https://www.showtv.com.tr/dizi/tanitim/dila-hanim/1051
English Wikipedia:
Imdb:
You Might Also Like
Zerda (Zerda)
Rebellious (Asi)