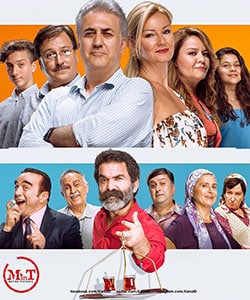 Details
Original Title: Cocuklar Duymasin
English Title: Don't Let the Kids Know
Also Known As: Family Links (English)
Genre: Comedy, Family
Episodes: 456
Seasons: 9
Broadcast Network: TGRT (2002), Atv (2002-2003, 2010-2012), Star TV (2003-2005), FOX (2013-2014), Kanal D (2017-2019)
Broadcast Period: January 16, 2002 – April 11, 2019
Production Company: MinT Motion Pictures
Director: Rasit Celikezer (2002-2005), Gunay Koker (2010-2012), Bora Tekay (2010-2014, 2017-2019)
Screen Writer: Birol Guven, Metin Acikgoz (2002-2012), Nilufer Yenidogan (2002-2005), Ozlem Aybek (2002-2005), Mufit Can Sacinti (2010-2012), Caner Guler (2010-2012)
Filming Locations: Istanbul, Turkey
Synopsis
Meltem (Pinar Altug) and Haluk (Tamer Karadagli) have been married for 16 years and have two children: Emre (Furkan Kizilay) and Duygu (Aysecan Tatari/Hayal Garip).
Although they are married for a long time, they still manage to turn the minor upsets of married life into major disasters and continually accuse each other in this respect. They squabble all the time and frequently speak of divorce but at the end, they always back down.
The characters of the drama is very colourful: Haluk is quite feudal and jealous, Meltem is a working wife trying to maintain her independence in the marriage, Haluk's colleague Selami (Ozgur Ozan) does whatever his wife says so he is labeled as being a "light man", Selami's wife Gonul (Zeyno Gunenc) who is called by Haluk as being the "dominant aunt" is a close friend of Meltem and Haluk's boss Ismail is a womanizer and so on.

In don't let the kids know (cocuklar duymasin) tv series story, you will explore the funny story of couple married for 16 years living with their children aged 15 and 12. Also, you will find your mouth constantly smiling and laughing while watching this television series. Will Haluk become an absolute husband for the sake of Meltem's happiness? Will Haluk and Meltem live happily or get divorced at the end?
Don't Let The Kids Know (Cocuklar Duymasin) Tv Series Cast
Tamer Karadagli as Haluk
Pinar Altug as Meltem
Zeynep Tokus as Meltem (2)
Aysecan Tatari as Duygu
Hayal Kahraman Ozalp as Duygu (2)
Furkan Kizilay as Emre
Mehmet Baran Erdogan as Emre (2)
Zeyno Gunenc as Gonul
Ozgur Ozan as Selami
Volkan Severcan as Tuna
Ferdi Akarnur as Kemal
Aysen Tekin as Muzeyyen
Suleyman Yagci as Ismail
Emin Gumuskaya as Tayyar
Alpaslan Ozmol as Huseyin
Melek Sahin as Emine
Yakup Uysal as Yakup
Recognitions
31. Golden Butterfly Awards (2003): Best Actress (Pinar Altug)
30. Golden Butterfly Awards (2002): Best Actor (Tamer Karadagli)
Main Characters' Other Popular Dramas
Tamer Karadagli: Rain Season (Yagmur Zamani)
External Links
Official Site: http://www.mint.com.tr/cocuklarduymasin/
English Wikipedia:
Imdb:
You Might Also Like
My Dear Family (Canim Ailem)
The Large Family (Genis Aile)