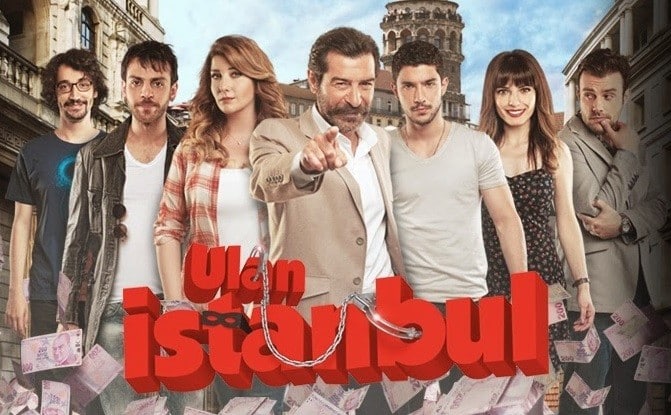 Details
Original Title: Ulan Istanbul
English Title:  Buddy Istanbul
Also Known As: 
Genre: Action, Comedy
Episodes: 39
Broadcast Network: Kanal D
Broadcast Period:  June 23, 2014 – March 23, 2015
Production Company:  D Productions
Director:  Murat Onbul
Screen Writer: Ugras Gunes
Synopsis
Derya (Sevtap Ozaltun) is young girl who comes to Istanbul to study acting. However, she cannot continue her acting career when her father is being imprisoned for no reason. In order to free her father and clear their family name, Derya has to find one million Turkish Lira. Luckily, her way intersects with her father's old friend Kandemir (Ugur Polat) who decides to help Derya to raise enough money.
Kandemir works together with a couple of young people who are con-artists: Karlos (Erkan Kolcak Kostengil), Yaren (Sebnem Bozoklu) and Ferdi (Kaan Yildirim). In order to collect one million Turkish Lira, they make a plan and move to a historical street of Istanbul. According to this plan, Kandemir would act as a heir of wealthy Istanbul family, 'Nevizades' while Karlos, Yaren, Ferdi, and Derya would act as children of this family. They start to portray a well-established Istanbul family but at the same time, they scam bad people through various schemes.
The story becomes more complicated when Derya and Ferdi fall into each other. This is because; they have to hide their relationship and act as brother and sister in front of their neighbors. However, they find themselves in a difficult situation when their neighbor Ceyhun (Salih Bademci) who is a police officer also deeply falls in love with Derya.
In this story, you will watch the lives of con-artists who scam bad people in order to collect one million Turkish Lira. Will Derya manage to collect one million Turkish Lira to free her father?
Cast
Ugur Polat as Kandemir
Emre Kinay as Firuz
Erkan Kolcak Kostengil as Cakal Karlos
Sebnem Bozoklu as Yaren
Kaan Yildirim as Ferdi
Sevtap Ozaltun as Derya
Salih Bademci as Ceyhun
Ezgi Eyuboglu as Ada
Caner Ozyurtlu as Bahadir
Zeynep Kankonde as Sehriban
Beyti Engin as Hayati
Demet Gul as Masuka
Zihni Goktay as Servet
Gokhan Kirac as Tuncer
External Links
Imdb:
Wikipedia:
Official Site:
You Might Also Like: