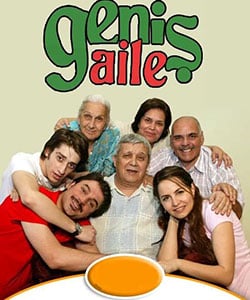 Details
Original Title: Genis Aile
English Title: The Large Family
Also Known As:
Genre: Comedy, Family
Episodes: 108
Seasons: 3
Broadcast Network: Kanal D, Star TV
Broadcast Period: July 8, 2009 – November 18, 2011
Production Company: D Production
Director: Omer Ugur
Screen Writer: Cuneyt Inay, Kamuran Suner
Filming Locations: Boyacikoy/Istanbul, Turkey
Synopsis
Cevahir (Ufuk Ozkan) is a 28-year old man who returns from Germany. He wants to get married to his childhood love, Sukufe (Zuhal Topal). However, Sukufe is angry at him for his going to Germany and could not forgive him easily.
For this reason, Cevahir tries almost every possible way to become together with her again. On the other hand, Bilal (Firat Tanis) also loves Sukufe and doesn't want to loose her. Thus, Cevahir and Bilal do not get along well and squabble all the time.

In the large family (genis aile) tv series story, you will explore comedy, family relations, anger and hope at the same time. Also, you will find your mouth constantly smiling and laughing while watching this television series. Will Sukufe go back to her first love or stay with Bilal? Will Cevahir manage to convince Sukufe or continue to do stupid things?
The Large Family (Genis Aile) Tv Series Cast
Ufuk Ozkan as Cevahir Kirisci
Firat Tanis as Bilal Elagoz
Zuhal Topal as Sukufe
Rojda Demirer as Zeynep
Rasim Oztekin as Kuddusi Kirisci
Bulent Colak as Ulvi Misirlioglu
Bora Akkas as Zekai Kirisci
Bihter Dincel as Nazan Kirisci Kocak
Ilker Ayrik as Mursel Kocak
Yesim Ceren Bozoglu as Sevim
Azra Akin as Nese Elagoz
Emel Colgecen as Nilufer Kirisci
Mine Teber as Muazzez Kirisci
Tanju Tuncel as Hafize Kirisci
Recognitions
37. Golden Butterfly Awards (2010): Best Comedy Show (Genis Aile)
Main Characters' Other Popular Dramas
Firat Tanis: Slave to Love (Aska Surgun), Menekse and Halil (Menekse ile Halil)
External Links
Official Site: https://www.startv.com.tr/video/arsiv/dizi/genisaile
Official Site 2: https://www.kanald.com.tr/genisaile
English Wikipedia:
Imdb:
You Might Also Like
The European Side (Avrupa Yakasi)
The Foreign Groom (Yabanci Damat)