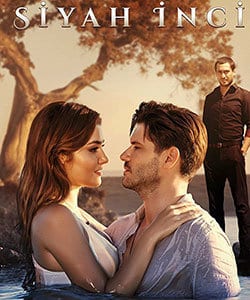 Details
Original Title:
Siyah Inci
English Title:
Black Pearl
Also Known As:
Genre:
Melodrama
,
Romance
Episodes:
20
Broadcast Network:
Star TV
Broadcast Period:
September 28, 2017 – February 15, 2018
Production Company:
Gold Production
Director:
Erol Ozlevi
Screen Writer:
Yekta Torun
Synopsis
Hazal (Hande Ercel) is a young and beautiful girl who lives in a small coastal town named Cesme in the Aegean region of Turkey. She has a modest life and lives happily together with her mom Melek (Yesim Buber), step-sister Ebru (Melis Sezen) and step-father Halil.
Hazal works as a waitress in a big hotel in this small town and does not want anything but to get married to her lover Kenan (Tolgahan Sayisman). Hazal and Kenan are very much in love with each other and dream to get married as soon as possible.
Kenan is a young man who works as a fisherman. He manages to find the black pearl deep down in the Aegean Sea and proves that he loves Hazal to death. He wants to spend all his life together with his lover Hazal and tries to do his best to make her happy.

Kenan asks for Hazal's hand for marriage but it is not easy to get the approval of her parents. Hazal's step father does not want Hazal to get married to a miserable fisherman having low living standards. He does not want to give his permission for the marriage but he cannot object it anymore when Hazal's mother Melek supports her daughter's marriage. Eventually, Hazal and Kenan get engaged and promise that they will never leave each other in the future. They set a wedding date too soon and start to arrange everything inclusion house, wedding dress etc.
The life of Kenan and Hazal turns upside down with the arrival of Vural (Berk Hakman). Vural has psychological problems and killed accidentally his wife in order not to let her go. After this tragedy, he cannot recover himself.
Hazal totally resembles to Vural's dead wife: she is as if that woman's identical twin sister. When Vural sees Hazal, he is shattered and develops a sick passion towards her. He does not want loose Hazal just like his wife and sets a trap in order to cancel Hazal's wedding with Kenan.
Hazal suffers from the oppression because of the diseased love of Vural and finds herself in a desperate situation. She breaks up with Kenan without explaining anything in order not to endanger him and accepts to get married to Vural.
In black pearl (siyah inci) tv series story, you will watch a pure love of Hazal and Kenan whose destinies are not written together. Will Kenan manage to learn the truth about why Hazal has left him? Will Hazal and Kenan manage to cope with all the obstacles on their ways and continue to love each other? Will Vural continue his life without Hazal? Will Hazal manage to learn the truth about Vural's past? How will Kenan take his revenge?
Black Pearl Tv Series Cast
Tolgahan Sayisman as Kenan
Hande Ercel as Hazal
Berk Hakman as Vural
Neriman Ugur as Canan
Huseyin Avni Danyal as Aziz
Burak Altay as Ahmet
Yesim Buber as Melek
Mehmet Mehmedof as Sinan
Melis Sezen as Ebru
Cagla Demir as Ece
External Links
Official Site: https://www.startv.com.tr/video/arsiv/dizi/siyah-inci/
English Wikipedia:
Imdb: http://www.imdb.com/title/tt7621364/
You Might Also Like
Bitter Life (Aci Hayat)
Endless Love (Kara Sevda)