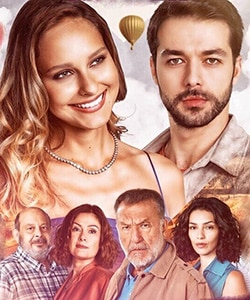 Details
Original Title: Maria ile Mustafa
English Title: Maria and Mustafa
Also Known As:
Genre: Romance, Drama
Episodes: 3+
Broadcast Network: ATV
Broadcast Period: 6 September 2020 –
Production Company: NTC Medya
Director: Faruk Teber
Screen Writer: Birol Elginoz
Filming Locations: Cappadocia / Nevsehir, Turkey
Synopsis
Maria (Jessica May) is a beautiful girl whose father is Turkish while her mother is Colombian. When she is seven years old, she leaves Turkey together with her mother and starts to live in Colombia. After then, she rarely sees her father and comes to Turkey a couple of times. Whenever she comes to Turkey, she intentionally upset her father because she believes that her father let them leave and has not done his best to keep the family together.
Years later, Maria's father passes away all alone due to an illness and Maria returns Turkey in order to visit her father's graveyard and sell the property inherited from her father.
Maria aims to sell the property as soon as possible, return Colombia to open a restaurant with the money she gets, and work there as a cook. However, her life turns upside down when she finds true love in Cappadocia.

On her way to Cappadocia, Maria bumps into Mustafa (Hilmi Cem Intepe) who is a handsome guy from a well-known family in Cappadocia.
Maria and Mustafa travel together and share a car when their plane makes an emergency landing.
The destinies of these two young persons intersect again and they come across together while Maria is trying to sell her inherited land.
Mustafa comes from a wealthy family and is interested in ecological farming. His life is so complicated because he bears a huge burden in his own shoulders. When his brother-in-law is accidentally killed by Nihat (Alpay Kemal Atalan), the heads of two families decide to marry their children in order not to start a blood revenge.
Nadire (Ezgi Celik) who is an older sister of Mustafa mourn after her husband's death, Nihat is put into prison to bear the penalty of killing someone, and Mustafa gets married to Gonca (Tugba Tutug) who is the sister of Nihat.
Even though Mustafa is married to Gonca, he never loves her and never becomes a real husband for her. He knows that Gonca is supposed to get married to Mustafa's late brother and she bears the baby of Mustafa's late brother.
When Mustafa's brother dies in a traffic accident, Mustafa has nothing to do but to get married to Gonca as a formality and become a father for his nephew. He sacrifices his own life for the sake of his family.
Mustafa has everything financially but he is not happy at all. He lives in a big mansion together with his father Kudret (Tamer Levent), his sisters Nadire and Nisan (Hira Koyuncuoglu), his brother Sahin (Haki Bicici), his sister-in-law Iclal (Ozlem Ulukan), his nephew Zeyno (Derin Deniz Gorgulu), and his so-called wife Gonca and his so-called daughter Melek.
Mustafa lives as a half-dead man for almost 6 years after he sacrifices his life for the sake of his family and his tragic life changes dramatically when he bumps into Maria.
While Mustafa is looking for an appropriate land for ecological farming, Mustafa comes across Maria again and wants to buy her land. Mustafa and Maria get closer to each other each day even though they come from different backgrounds.
Mustafa and Maria enjoy spending time together and they eventually fall into each other. Within a month, Maria decides to stay in Cappadocia instead of returning Columbia and start a new life together with Mustafa.
Maria feels like Cappadocia is her new home and she belongs to the place where her lover lives. As time passes, Mustafa finds it more difficult to reveal the truth about his life. He cannot find an appropriate time to tell how he was forced to get married and become a father for his nephew.
The story becomes more complicated when Maria becomes pregnant and learns the truth about Mustafa.
Maria and Mustafa tv series story is about a true love between a Colombian girl Maria who returns Turkey after her father passes away and a Turkish guy Mustafa who is forced to get married to end blood feud. Will Maria forgive Mustafa when she learns that Mustafa is a married guy? Will Mustafa manage to persuade his family and get divorced from his so-called wife Gonca? Will Maria forget all the things happened in Cappadocia and return Colombia? Will Nadire forgive Nihat and manage to live in peace? Will the peace between two families be maintained when Mustafa wants to get divorced from his so-called wife Gonca?
Maria and Mustafa Tv Series Cast
Jessica May as Maria Yildirim
Hilmi Cem Intepe as Mustafa Candemir
Tamer Levent as Kudret Candemir
Haki Bicici as Sahin Candemir
Ezgi Celik as Nadire Candemir
Alpay Kemal Atalan as Nihat Yalcinoglu
Cem Karakaya as Bekir
Hulya Gulsen Irmak as Feriha
Bulut Genc as Mujdat
Tugba Tutug as Gonca
Mine Tufekcioglu as Zumrut
Burak Berkay Akgul as Ruzgar
Ozlem Ulukan as Iclal
Hira Koyuncuoglu as Nisan
Derin Deniz Gorgulu as Zeyno
Neyra Kayabasi as Nazli
Zeynep Gulmez as Reyhan Ozer
Haldun Boysan as Hasmet Yalcinoglu
Ipek Yigit as Melek
External Links
Official Site: https://www.atv.com.tr/webtv/maria-ile-mustafa/bolumler
English Wikipedia:
Imdb:
Social
Instagram: https://www.instagram.com/mariailemustafa/
Twitter: https://twitter.com/mariamustafatv
Facebook: https://www.facebook.com/mariailemustafatv/
Youtube Channel: https://www.youtube.com/channel/UCTfCetYps30mQkWACSY79rA/
You Might Also Like
Hercai
Love in the Sky (Yer Gok Ask)
Maria and Mustafa Tv Series Gallery
Maria and Mustafa Tv Series Trailer (With English Subtitle)
Maria and Mustafa Tv Series Trailer