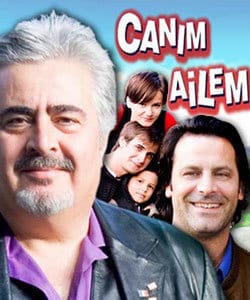 Details
Original Title: Canim Ailem
English Title: Dear Family
Also Known As:
Genre: Comedy, Romance
Episodes: 63
Broadcast Network: ATV
Broadcast Period: November 18, 2008 – June 9, 2010
Production Company: TMC Film
Director: Sadullah Celen
Screen Writer: Selin Tunc
Synopsis
Samim (Ugur Yucel) is a 45 years old man who has never taken a significant responsibility in this life. He is working as a waiter on cruise ships and travels from one country to another as an unmarried carefree man. While he is working on the cruise ship and going towards Caribbeans, he gets a phone call and learns that his sister and his brother-in-law have died in a traffic accident.
After getting this sad news, Samim wants to return to Istanbul and attend his sister's funeral. His close friend Ali (Ozan Guven) who is also working on cruise ships does not want to let him alone and decides to accompany him. Samim and Ali leave their job and return to Turkey.

When Samim arrives at Istanbul, he finds himself in the middle of chaos. There is nobody who is going to take care of his sister's three children. Samim tries to persuade the brother of his brother-in-law who is living with his family in Germany but he cannot become successful and eventually, he is left alone with his sister's three children.
Samim becomes the guardian for three children: 17-year old rebel Yigit, 16-year old math genius Eda, and 6-year old Mertcan. His life changes dramatically, now he needs to have a settled life in Istanbul. With the help of his old friend, Samim finds an old house in Emirgan neighborhood that is totally different from the standards of Yigit, Eda, and Mertcan. Meanwhile, Ali also comes to Istanbul in order to find his missing fiancé Ahsen (Sevtap Ozaltun) and starts to live together with Samim.
Out of pure coincidence, Samim becomes the neighbor of Meliha (Sebnem Bozoklu), whom Samim left on their wedding day 20 years ago. Meliha has never got married since then and dedicates her life to her family. She lives together with her two sisters Feride (Ezgi Mola) and Seyhan (Funda Eryigit) just across the street. Her only aim is to take care of her sisters and see their marriages.
Samim's arrival not only changes the life of Meliha but also the lives of all the people in this neighborhood. Meliha starts to bring all hidden feelings to light. At the same time, Seyhan who is engaged to Halim (Ilker Aksum) starts to fall in love with Ali.
In dear family (canim ailem) tv series story, you will watch cozy family relations together with anger, sorrow and happiness. Will Samim manage to adjust to a settled ordinary life in Istanbul? Will Meliha forgive Samim and start to have a happy life? Will Yigit, Eda, and Mertcan manage to adjust their new life? Will Ali manage to find his missing fiancé? Will Seygan and Halim get married eventually? Will Feride find true love?
Cast
Ugur Yucel as Samim
Sebnem Bozoklu as Meliha
Ozan Guven as Ali
Funda Eryigit as Seyhan
Ezgi Mola as Feride
Ilker Aksum as Halim
Sezgi Mengi as Yigit
Deniz Denker as Eda
Onur Unsal as Furkan
Alpay Sayhan as Mertcan
Arif Erkin Guzelbeyoglu as Cabbar Agha
Oktay Gursoy as Kenan
Gonca Vuslateri as Nurcan
Seyda Sasmaz as Ayca
Nejat Birecik as Taci
Haldun Boysan as Zeki
Hikmet Kormukcu as Saime
Ayca Abana as Sehnaz
Bekir Cicekdemir as Aziz
Kaan Urgancioglu as Talat
Begum Kutuk Yasaroglu as Dr. Ceylan
Bilge Sen as Ikbal
Bengi Ozturk as Sevin
Sevtap Ozaltun as Ahsen
Candan Sabuncu as Muazzez
External Links
Official Site: https://www.atv.com.tr/klasik-diziler/canim-ailem
English Wikipedia:
Imdb: https://www.imdb.com/title/tt1421511/
You Might Also Like
Between Us (Aramizda Kalsin)
Second Spring (Ikinci Bahar)
Father is a Life (Baba Candir)
Gallery