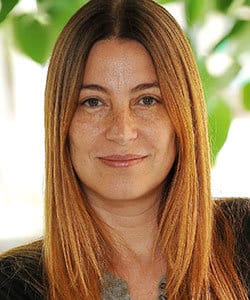 Profile
Name: Vahide Percin (Gordum)
Birthdate: June 13, 1965
Birthplace: Izmir, Turkey
Height: 178 cm
Eye Color: Green
Hair Color: Brown
Education: 9 Eylul University State Conservatory-Theatre (9 Eylul Universitesi Devlet Konservatuari Tiyatro Bolumu)
Talent Agency:
Spouse: Altan Gordum (m. 1991 – 2013)
Children: Alize Gordum
Biography: Vahide Percin (Vahide Gordum) was born in 13 June 1965. Her parents migrated from Greece. Her father is a truck driver while her mother is a housewife. While she was young, she wanted to be actress but she thought that she would not be able to do acting due to the fact that she did not like coming to the forefront. That's why, she studied graphics during high school and economics during university. However, she decided to follow her dreams and won 9 Eylul University State Conservatory. She got the biggest support from his teacher Ozdemir Nutku who bought the school books for her when Vahide Percin wanted to drop the school due to financial difficulties. While going to university, Vahide Percin got married to Altan Gordum and moved to Ankara after graduation. She also worked at Adana State Theatre. Vahide Percin became well-known with her role in popular Turkish drama An Istanbul Fairytale (Bir Istanbul Masali).

Vahide Percin (Gordum) Tv Series / Movies
Awards
1996 –

Art Institution Awards (Sanat Kurumu Odulleri) – Best Actress

(En Iyi Kadin Oyuncusu Unvani)
2007 –

14. International Golden Cocoon Film Festival (14. Uluslararasi Altin Koza Film Festivali) – Best Actress (First Love)

– En Iyi Kadin Oyuncu (Ilk Ask)
2007 –

Magazine Journalists Association Golden Objective Awards (Magazin Gazetecileri Dernegi Altin Objektif Odulleri) – Best Actress in Theatre Plays (Evlilikte Ufak Tefek Cinayetler)

– En Iyi Tiyatro Oyuncusu (Evlilikte Ufak Tefek Cinayetler)
2008 –

Radio Television Journalists Association Awards (Televizyon Gazetecileri Dernegi Yilin Odulleri) – Best Actress (My Mom)

– Yilin Kadin Oyuncusu (Annem)
2014 –

33. Istanbul Film Festival (33. Istanbul Film Festivali) – Best Actress (Mrs. Ayhan)

– En iyi kadin oyuncu (Ayhan Hanim)
Social
Instagram:
Twitter:
Facebook:
E-Mail:
Vahide Percin Gallery
Vahide Percin – Door Trailer (Movie)

Kapı - Fragman (Sinemalarda)