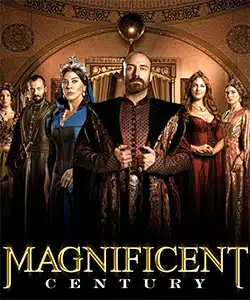 Details
Original Title: Muhtesem Yuzyil
English Title: Magnificent Century
Also Known As: Suleimán – El Gran sultán, Hareem al Sultan, حريم السلطان (Hareem Elsultan), حرم سلطان (Hurrem Sultan), Sulejmani i Madhërishëm, El Sultán, Σουλεϊμάν ο Μεγαλοπρεπής (Souleiman o Megaloprepis), Szulejmán, HaSultan, Hürrem Aur Sultan
Genre: History, Drama, Romance
Episodes: 139
Broadcast Network: Show TV & Star Tv
Broadcast Period: January 5, 2011 – June 11, 2014
Production Company: Tims Production
Director: Yagmur Taylan, Durul Taylan
Screen Writer: Meral Okay, Yilmaz Sahin
Filming Locations: Istanbul
Synopsis
Suleyman (Halit Ergenc) is a young man who is very handsome and fond of study. He learns the death of his father while he is hunting with his close friend Ibrahim (Okan Yalabik). Upon the death of his father, Suleyman enters Istanbul and accedes to the throne as the tenth Ottoman Sultan. His life changes radically, he becomes the tenth and longest-reigning Sultan of the Ottoman Empire, from 1520 to his death in 1566. Also, he will be known in the West as Suleiman the Magnificent and in the East, as the Lawgiver for his complete reconstruction of the Ottoman legal system.

Upon succeeding his father, Suleyman begins a series of reforms in the palace. He makes his boyhood friend Ibrahim the royal falconer although Ibrahim is originally Greek Orthodox and educated at the Palace School under the devshirme system. Under his reign, he makes some changes in the legal system that would affect the current staff in the palace.
One day, Suleyman comes across one of the harem girl, Alexandra (Meryem Uzerli), and is infatuated with her. Alexandra is the daughter of an Orthodox Ukrainian priest and is a slave in the Ottoman Palace. Although she is rebellious and doesn't obey the rules at the beginning, she decides to take revenge of her parents through gaining the heart of Sultan Suleyman. After that, Alexandra tries to attract Sultan Suleyman and wants to be his woman not for just one night but for 1001 nights.
Eventually, Alexandra reaches her goal and Sultan Suleyman falls completely into Alexandra and starts to call her as Hurrem. The love between Sultan Suleyman and Hurrem not only affects the girls in the harem but also affects the future of the Otoman Empire.
In magnificent century (muhtesem yuzyil) tv series story, you will explore passion, love, jealousy, controversy, intrigue, power struggles and secrets revolving around Ottomon Palace while going to the enchanting world of Ottoman Empire. Will Sultan Suleyman achieve his ultimate goal: building a world empire that would encompass the east and the west? How will the arrival of Alexandra/Hurrem affect the future of Ottoman Empire? Will Alexandra/Hurrem rise through the ranks of the harem and become Sultan Suleyman's favourite?
Magnificent Century Tv Series Cast
External Links
Official Site: Official Site
English Wikipedia: Magnificent Century Wikipedia
Imdb: Muhtesem Yuzyil Imdb
Social
Instagram:
Twitter: @myaskiderun
Facebook: MuhtesemYuzyil Facebook
Youtube Channel: @Muhtesemyuzyil
You Might Also Like
Magnificent Century Kosem Sultan (Muhtesem Yuzyil Kosem Sultan)
Resurrection Ertugrul (Dirilis Ertugrul)
Magnificent Century Tv Series Trailer (with English Subtitles)
Magnificent Century (Muhtesem Yuzyil) Trailer (Eng Sub)