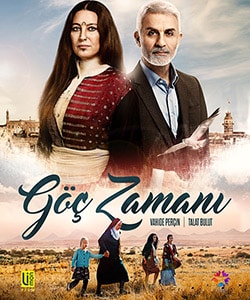 Details
Original Title: Goc Zamani
English Title: Time of Departure
Also Known As:
Genre: Drama
Episodes: 15
Broadcast Network: Star TV
Broadcast Period: 30 January 2016 – 10 May 2016
Production Company: Limon Film
Director: Veli Celik
Screen Writer: Oya Yuce, Peri Oruc, Gozde Baykara
Filming Locations: Mardin, Istanbul
Synopsis
Cennet (Vahide Percin) lives in Mardin which is a city located in the southeast part of Turkey. She is forced to get married as a second wife when she is a young girl. As a second wife in the family, Cennet does all the house chores and suffers from the cruelty of the first wife Hanim (Tilbe Saran).
The first wife Hanim does not have children and for this reason, accepts her husband to have a second wife. She is so powerful and she controls her husband. When Cennet comes to the family, she starts to use her power to behave Cennet as a servant.
After marriage, Cennet gives birth to one boy and three girls. The first wife Hanim takes the baby boy for herself and raises him as if her own baby. Cennet cannot reveal the fact that she is the real mother. Thus, her boy Yemin (Gurkan Gunal) has grown up unaware that Cennet is his real mother.

Cennet raises her three daughters Zumrut (Cansu Tosun), Kiraz (Elif Ceren Balikci), and Gunes (Berre Isra Talikaci). Their life becomes much harder each day in a society where men dominate and women do not have a voice.
Cennet's eldest daughter Zumrut manage to pass the national university exam and gets enough score to enter to a Law School in Istanbul. However, her father does not let her go to Istanbul. Instead, he wants her daughter to get married to a landowner as a second wife in order to pay off his debts.
Cennet does not want her daughter to have the same fate as herself. She knows that being a second wife is like a life sentence with full of struggles. She is determined to rescue Zumrut from her arranged marriage, protect her daughters, and give them a decent life. Thus, she and her daughters leave everything behind and secretly go to Istanbul in order to follow their dreams in the big city.
Cennet knows just one person who can help them in Istanbul. The owner of carpet shop which has been buying Cennet's hand woven carpets for a long time is the only person who can help them. Cennet has the address of this carpet shop and she aims to go there when she arrives at Istanbul.
Meanwhile, Yemin goes after Cennet and her daughters. He wants to punish them in order to restore the family honor. He wants to kill Cennet as an honor killing for taking her daughters away. He arrives at Istanbul and does his best to find them.
The life of Cennet and her children changes dramatically in Istanbul. Cennet and her daughters find themselves in a big mansion of a wealthy businessman Yilmaz (Talat Bulut).
Yilmaz is an owner of the carpet shop and is found of Cennet's hand woven carpets. He has a wealthy life in Istanbul but he still does not forget his hometown Mardin. He has an unhappy marriage due to his wife Sevgi's (Arzu Gamze Kilinc) ungrounded jealousy. Yilmaz does his best to gain his wife's trust buy cannot achieve to comfort her. Sevgi's jealousy attacks not only harm herself but also adversely affect her son and her husband.
Cennet and her daughters start to live in Yilmaz's mansion. As her children pursue their dreams and romance, Cennet tries to support them while coping with the difficulties of the big city.
Time of Departure (Goc Zamani) tv series story is about a strong mother Cennet who does her best to protect her daughters and give them a decent life. Thus. Will Cennet and her daughters get used to living in Istanbul? Will Yemin find Cennet and kill her as an honor killing? Will Cennet reveal that she is the real mother of Yemin? Will Yilmaz manage to protect Cennet and her daughters? Will Yilmaz solve his problems with his wife?
Time of Departure (Goc Zamani) Tv Series Cast
Additional Cast Members
Burak Tamdogan as Bilal
Ali Erzakan as Cemal
Nurana Bagieva as Hande
Sukuri Cavusay as Zafer
Mehmet Cepic as Ahmet
Berre Isra Talikaci as Gunes
Bige Onal as Didem
External Links
Official Site: https://www.startv.com.tr
English Wikipedia:
Imdb:
Social
Instagram: https://www.instagram.com
Twitter: https://twitter.com
Facebook: https://www.facebook.com
Youtube Channel: https://www.youtube.com
You Might Also Like
Gulperi
Coming Home (Sila)
Bitter Lands (Bir Zamanlar Cukurova)
Time of Departure (Goc Zamani) Tv Series Trailer
Time of Departure (Goc Zamani) Turkish Drama Trailer 2
Göç Zamanı - 1. Bölüm 1. Tanıtım
Time of Departure (Goc Zamani) Tv Series Trailer 3