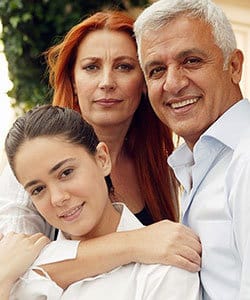 Details
Original Title: Annem
English Title: My Mom
Also Known As:
Genre: Romance, Drama
Episodes: 64
Broadcast Network: Kanal D
Broadcast Period: August 30, 2007 – May 28, 2009
Production Company: Gold Film
Director: Faruk Teber
Screen Writer: Gamze Ozer
Filming Locations: Istanbul, Turkey
Synopsis
Zeynep (Vahide Gordum) and Musa (Talat Bulut) meet at university and fall in love with each other. They get married and live happilly afterwards. However, this happiness continues only for 3 years. After 3 years of their marriage, Zeynep discovers her husband's betrayal during her pregnancy. She never forgives her husband and gets divorced from him without telling about the baby.
After divorce, Zeynep starts a new life. She moves to her father's small house and tries to survive through selling meatballs in the bazaar. She suffers a lot while raising her daugher Gonca (Duygu Yetis) but never gives up working hard.

Zeynep tries to do everything to make her daugher happy that's why, she becomes both her mom and her father. However, when Gonca becomes 16 years old, she starts to get embarrased of her poor life. She could not disclose to her friends that she lives in a small house with her mother.
Therefore, she stucks in the middle and starts to smoke at school. This situation increases the tension and Gonca escapes from her house without telling anything to her mother. Due to this unexpected thing, Musa learns that he has a daughter and Gonca figures out that her father is not dead.
In my mom (annem) tv series story, you will explore a life of a single mom and her struggles in the life. Will Zeynep forgive Musa's betrayal and will they live happily afterwards? Emir discover the truth about Feriha? How will Gonca react when she learns all the lies of her mother?
My Mom (Annem) Tv Series Cast
Vahide Gordum as Zeynep Egilmez
Talat Bulut as Musa Bayri
Ilhan Sesen as Ali Aydin
Seda Akman as Ayse Altay
Duygu Yetis as Gonca Egilmez
Tuncer Salman as Mehmet Egilmez
Emel Goksu as Emine Bayri
Zeynep Gulmez as Sureyya Egilmez
Ayle Arslancan as Neriman
Ali Uyandiran as Cahit Basto
Cavit Cetin Guner as Eymen Saygi
Turku Turan as Pinar Umay
External Links
Official Site: https://www.kanald.com.tr/annem
English Wikipedia:
Imdb:
You Might Also Like
Aliye (Aliye)
Moment of Farewell (Elveda Derken)