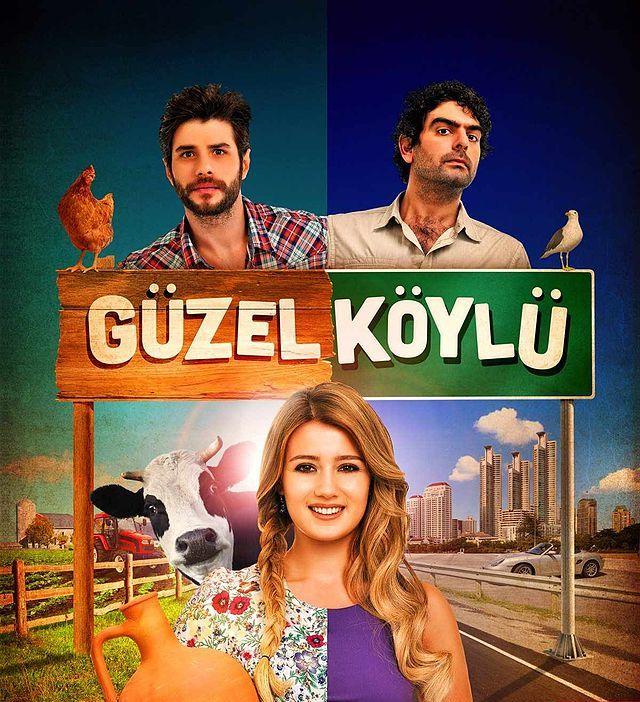 Details
Original Title: Guzel Koylu
English Title: Beautiful Villager
Also Known As:
Genre: Comedy,Romance, Family
Episodes: 52
Broadcast Network: Star Tv
Broadcast Period: June 25, 2014 – June 19, 2015
Production Company: Gold Film
Director: Mustafa Sevki Dogan
Screen Writer: Baykut Badem, Filiz Ekinci
Synopsis
Gul (Gizem Karaca) is a young and beautiful girl who lives in Istanbul and works at the cosmetics company. One day, she suffers from a string of a bad luck: she learns that an important cargo has been delivered to a wrong address, she is stuck with the traffic and gets delayed, she says that she is in the company but ends up crashing the car where her boss is staying. The next day, she again suffers from a string of bad luck: she drops milk to her blouse, she drops her ipad to the floor, she makes her boyfriend's car tow away, she gets delayed and misses an important meeting at the company, she is fired by her boss and moreover, she breaks up with her boyfriend Kaan (Mehmet Ali Nuroglu).
Meanwhile, in the Guzelkoy (Beautiful Village), a cargo which is full of cosmetics is delivered to an old lady named as Sultan Ana. When cargo is delivered, Sultan Ana thinks that these cosmetics products are delivered by her grand daughter as a gift. Villagers do not believe that Sultan Ana has a grand daughter because she was not married and nobody knows whether in the past she gave a birth or not. But still, they could not be sure about that. At that time, Gul calls them and informs that the cargo has been delivered by mistake. She gives her address to take back her cargo.
Cemal (Berk Cankat), on the other hand, who lives in Guzelkoy (Beautiful Village), goes to Istanbul and at the same time, wants to deliver Sultan Ana's letter to Gul. Out of pure coincidence, he bumps into Gul and falls in love with her at first sight. He returns his village but knows that he will never forget his first love.
When Gul gets the letter from Guzelkoy (Beautiful Village), she decides to go there in order to get rid of her bad luck and forget what she has got through in the last two days.
In this story, you will explore family relations with funny stories. You will see the differences between city life and village life. Will Gul easily adopt to live in the village? How will Gul's new life in the village affect other villagers?
Cast
Gizem Karaca as Gül
Berk Cankat as Cemal
Mehmet Ali Nuroglu as Kaan
Esin Civangil as Kamuran
External Links
Imdb:
Wikipedia:
Official Site:
You Might Also Like: