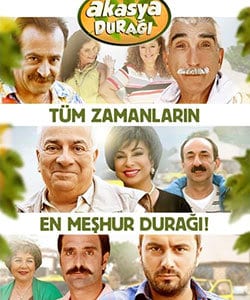 Details
Original Title: Akasya Duragi
English Title: Taxi Station
Also Known As: Crossing Lives
Genre: Comedy, Family, Friendship
Episodes: 174
Broadcast Network: Kanal D, Star TV
Broadcast Period: July 14, 2008 – September 1, 2012
Production Company: Erler Film
Director: Yasar Seriner
Screen Writer: Resul Ertas
Synopsis
Mrs. Melahat (Melek Baykal) loses everything after her husband goes bankrupt and then passes away. She and her daughter Tugce (Zeynep Dortkardesler) need to forget their wealthy life and start to find a way to survive. Their former driver Nuri (Zeki Alasya) learns their situation from the news and wants to help them.
Nuri is a very old driver who starts his own taxi company after retirement. He is the owner of a taxi station named Akasya Duragi where many taxi drivers work. He acts responsibly for his former employer's family and finds an old but a cozy house in his neighborhood. Mrs. Melahat and her daughter Tugce move in to their new house and start to have a new life in this friendly neighborhood.

Mrs. Melahat tries to find a job with the help of her relatives and friends. Since she does not have an undergraduate degree and a foreign language, she cannot find a job. Unfortunately, she finds herself in a desperate situation again.
Nuri comes to Melahat's rescue again. Even though taxi drivers are usually men in Turkey, he offers her a job in his taxi station. Eventually, Melahat starts to work as a driver in the taxi station that is a place full of funny, interesting and sympathetic drivers and amusement.
Driver Sinan (Levent Ulgen) is a swindler who gets into trouble all the time. For this reason, he always argues with his lovely wife Gulbin (Asli Altaylar) and his mother-in-law Saziment (Evin Esen).
Driver Osman (Cezmi Baskin) is an aggressive and ill-tempered men who comes from Thrace region. He always finds a thing to be angry at his wife Safiye (Gulay Baltaci) and his daughter Dilek (Pelin Sonmez).
Driver Seyit (Onur San) is a young man who has come from South Eastern part of Turkey to Istanbul in order to become a singer. He loves his wife Zeyno (Makbule Aybas) and tries to do his best to fulfill his aim of becoming a singer.
Ali Kemal (Ates Fatih Ucan) is a young man who comes from a Black Sea region of Turkey and works an office boy at the taxi station. He is married to Narin (Sinem Ergin) who is the dominant character in their marriage.
Driver Murat (Berk Oktay) works at the taxi station at night in order to go to medical school.
In taxi station (akasya duragi) tv series story, you will explore struggles, sadness and joy of a couple of drivers in a taxi station named Akasya Duragi. Will Melahat manage to adjust her new life as a taxi driver? Will Nuri and other drivers at Akasya Duragi work peacefully with a female taxi driver? Will Sinan manage to maintain his marriage despite her mother-in-law's objection? Will Dilek manage to persuade her father and get married to her lover Obayana?
Taxi Station (Akasya Duragi) Tv Series Cast
Levent Ulgen as Sinan
Zeki Alasya as Nuri
Cezmi Baskin as Osman
Melek Baykal as Melahat
Berk Oktay as Murat
Onur San as Seyit
Ates Fatih Ucan as Ali Kemal
Timur Acar as Arif Keser
Asli Altaylar as Gulbin
Evin Esen as Saziment
Gulay Baltaci as Safiye
Pelin Sonmez as Dilek
Erol Gunaydin as Ramazan
Zeynep Dortkardesler as Tugce
Max Bendo as Obayana
Ilyas Salman as Maho Aga
Mujde Uzman as Ozge
Sinem Ergin as Narin
Aysel Bakar as Cigdem
Binnur Serbetcioglu as Sukran
Aras Bulut Iynemli as Sener
Armagan Asliturk as Pinar
Ali Yalcin as Okan
Cansu Gultekin as Nurten
Makbule Aybas as Zeyno
Balamir Emren as Mert
Zafer Ergin as Kemal
Tevfik Yapici as Komiser
Kayhan Yildizoglu as Mazhar
Nilgun Belgun as Eleni
Ayca Inci
Arda Oziri as Tolga
Pinar Aydin as Ipek
Tarik Unduz as Emre
Sefa Tantoglu
External Links
Official Site: https://www.kanald.com.tr/akasyaduragi
English Wikipedia: https://en.wikipedia.org/wiki/Akasya_Durağı
Imdb: https://www.imdb.com/title/tt1286883/
You Might Also Like
Cicek Taxi
Back Streets (Arka Sokaklar)
Gallery