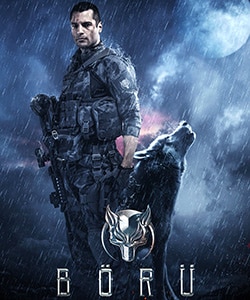 Details
Original Title: Börü
English Title: Wolf
Also Known As:
Genre: Action, Crime
Episodes: 6
Broadcast Network: Star TV
Broadcast Period: 28 February 2018 – 11 April 2018
Production Company: CaglarArts; Insignia Productions
Director: Can Emre, Cem Ozuduru
Screen Writer: Alper Caglar, Cem Ozuduru, Emre Sirel, Cam Emre
Filming Locations: Istanbul, Turkey
Synopsis
Kaya (Serkan Cayoglu) is a young guy who is 27 years old. He comes from a wealthy family. He is well-educated urban man whose future is bright. His parents do not want Kaya to work as a police officer and risk his life on the duty. However, Kaya is determined to serve for the country especially after the tragic death of his sister due to a terrorist attack at the night club.
Kaya graduates from Police Academy as the most successful student. After graduation, he decides to join to the special operations team composing of highly talented and brave police officers. No matter what his parents say, Kaya joins to the special operations team especially due to the sorrow of losing his sister.

The special operations team fights against terrorist organisations and the talented police officers in the team risk their lives for the good of the community. They aim to stop the monsters who wish to harm the country.
Kaya becomes the new rookie for this special team. Even though he has a good education track, he has to prove his talent before the team members. He has to perform his duty successfully and get approval of the team members.
The special operations team composes of highly talented and brave police officers. Everyone in the team is unique. Everybody calls them as heroes but they are in fact lonely humans with fears.
Asena (Ahu Turkpence): She is the backbone of the team. She tries her best to perform her duty and does not refrain from fighting at the frontline. After she breaks up with Kemal, she starts to date with Tolga. She is now the girlfriend of Tolga.
Kemal (Murat Arkin): He has a Forensic Anthropology PhD at Harvard University. He joins to the team voluntarily. He has some difficulty while communicating with others due to his high IQ. Kemal still has some feelings towards Asena and he is the best friend of Turan.
Turan (Emir Benderlioglu): He is the most troublemaker of the team. He is impetuous and uncontrollable. He does not refrain from putting his life for the sake of his duty and his friends. He has a daughter and has some problems in his private life. Even though he has a totally different character, he is the best friend of Kemal.
Behcet (Firat Dogruloglu): He is the chief of the team. He considers all the team members as his siblings and does his job successfully. He supports his mentor Irfan while he is in prison. He is married and has a little son.
Barbaros (Ahmet Pinar): He is the graduate of mechanics engineering at Yildiz Technical University. He is the best when it comes to mechanics. He has a disabled father. He is friendly and brave.
Tolga (Can Nergis): He is responsible for the security intelligence at the team. For the last 10 years, he has been giving the necessity data and information to team members while they are on duty. He is so clever and he is the boyfriend of Asena.
Bear Murat (Armagan Oguz): He is an expert of heavy weapons. He has a weapon that has a name of immortal. He is a sprightly, humorist, and romantic guy who is a fan of Turkish musician Baris Manco.
Baran (Ozan Agac): He is the previous rookie of the team before Kaya arrives. He comes from a very poor neighborhood of Istanbul and is a best friend of Omer.
Omer (Bedii Akin): He is the driver of the team. He is creative and offers various ideas to the team. He is the best friend of Baran.
Irfan (Mesut Akusta): He is the boss who is responsible for the special police team. He is the mentor of Behcet and he is put into prison for no reason.
Wolf (Börü) tv series story is about a special operations team composed of highly talented and brave police officers who fight against terrorist organizations. Will Kaya forget about his sister's death and manage to live in peace? Will special operations team become successful on their fight against terrorist organisations? Will Kemal and Asena forget about their relationship in the past?
Wolf (Börü) Tv Series Cast
Serkan Cayoglu as Kaya Ulgen
Mesut Akusta as Irfan Aladag
Ahu Turkpence as Asena Tumer
Murat Arkin as Kemal Boratav
Emir Benderlioglu as Turan Kara
Can Nergis as Tolga Erlik
Firat Dogruloglu as Behcet Orbay
Ahmet Pinar as Barbaros Cepni
Armagan Oguz as Bear Murat
Ozan Agac as Baran Harput
Bedii Akin as Omer Tunc
Gurol Tonbul as Turgut Atalay
Tan Altay as Tan Altay
Ozge Gurel as Gokce Demir
Melis Hacic as Zeynep
External Links
Official Site: https://www.startv.com.tr/video/arsiv/dizi/boru
English Wikipedia:
Imdb:
Netflix: https://www.netflix.com/title/81007175
You Might Also Like
Behzat C.
Wolf (Börü) Tv Series Trailer (English)
Wolf (Börü) Tv Series Trailer (English)
Wolf (Börü) Tv Series Music
Wolf (Börü) Tv Series Music