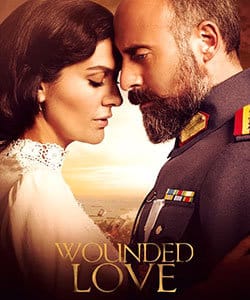 Details:
Original Title: Vatanim Sensin
English Title: You Are My Country
Also Known As: Wounded Love
Genre: History, Drama, Romance
Episodes: 59
Broadcast Network: Kanal D
Broadcast Period: October 27, 2016 – June 7, 2018
Production Company: O3 Medya
Director: Durul Taylan, Yagmur Taylan
Screen Writer: Necati Sahin, Nuran Evren Sit
Synopsis
Cevdet (Halit Ergenc) is a successful commander of Ottoman Empire who is fighting for his country in Balkans War. Even though he has a hard mission, he never loses his hope and wants to fight to the last drop of his blood. He has a family living in Thessaloniki, including his beautiful wife Azize (Berguzar Korel), his mother Hasibe (Celile Toyon), his adopted son Ali Kemal (Kubilay Aka) and his daughters Hilal (Miray Daner) and Yıldız (Pinar Deniz).
Cevdet wants to do his best for his country without thinking about his future. Some of his peers even start to save their lives before the fall of Ottoman Empire. During these hard times, Cevdet is betrayed by his close friend Tevfik (Onur Saylak) and finds himself as captured by allied military soldiers for 8 years.
Tevfik, the traitor, secretly loves Azize for a long time and betrays his close friend mainly for this reason. He informs Azize that Cevdet is killed during the war and lets them leave Balkans and move into İzmir, the city in the Aegean region of Turkey. Azize has nothing to do but to leave everything behind and start a new life for her family. She struggles to keep her family together during the most difficult times of her country even though she misses her beloved husband each day.

8 years later, Yildiz (Pinar Deniz) becomes a beautiful young lady who behaves selfishly and only wishes to have a wealthy and gleamy life. Hilal (Miray Daner) becomes a fighter against occupants of Izmir and becomes organized with her friends to secretly publish newspaper to provoke the public against occupation. Ali Kemal (Kubilay Aka) becomes an ill-tempered young man who tries to cope with his secret love. And Azize tries to do her best to have control over her 3 children.
Upon the arrivals of Greek military forces to Izmir in 1919, not only the future of Ottoman Empire changes but also the life of Azize and her family changes drastically. Cevdet appears to be on the side of Greece, wearing Greek military uniform and supporting Greece against Ottoman Empire. He is considered as a traitor by all the public and is left alone by his family because of the secret that he cannot reveal to anyone.
In wounded love tv series story, you will explore the last days of Ottoman Empire while considering what is true love. Can love stay unwounded in the face of betrayal? Will Cevdet reveal the reason why he is on the Greece side? Will Azize continue to love his husband even if she is considering that he is a traitor? Will Cevdet learn that his close friend Tevfik has betrayed to his country? What will happen to Ottoman Empire? How will the public react against the occupation of Izmir?
Wounded Love Tv Series Cast
Halit Ergenc as Cevdet
Berguzar Korel as Azize
Onur Saylak as Tevfik
Sebnem Hassanisoughi as Eftelya
Selma Ergec as Halide Edib
Miray Daner as Hilal
Boran Kuzum as Leon
Pinar Deniz as Yildiz
Kubilay Aka as Ali Kemal
Senan Kara as Veronika
Baki Davrak as Vasili
Celile Toyon as Hesibe
Hakan Salinmis as Esref Pasa
External Links
Official Site: https://www.kanald.com.tr/vatanim-sensin
English Wikipedia: https://en.wikipedia.org/wiki/Vatanım_Sensin
Imdb: http://www.imdb.com/title/tt6132720/
You Might Also Like
Bullet Wound (Kursun Yarasi)
Gallery
Wounded Love Trailer (Eng Sub)
Wounded Love Trailer (Eng Sub)
Wounded Love 2nd trailer (Eng Sub)
Wounded Love tv series 2nd Trailer (Eng Sub)