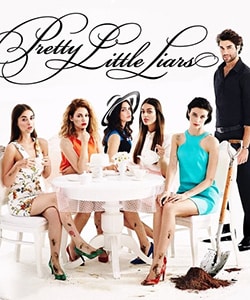 Details
Original Title: Tatli Kucuk Yalancilar
English Title: Pretty Little Liars
Also Known As:
Genre: Romance, Youth, Mystery
Episodes: 13
Broadcast Network: Star Tv
Broadcast Period: July 6, 2015 – October 3, 2015
Production Company: O3 Medya
Director: Ecem Karci
Screen Writer: Elif Usman Erguden
Filming Locations: Istanbul, Turkey
Synopsis
This tv series is based on the story of Pretty Little Liars (American tv series).
Asli (Bensu Soral), Selin (Busra Develi), Ebru (Dilan Cicek Deniz), Hande (Melisa Senolsun) and Acelya (Beste Kokdemir) are five close friends who live in the same neighborhood and go to same school. They want to spend a night and watch a movie together at a big country house.
However, the group leader Acelya disappears there without leaving anything behind and nobody hears back anything about her. After Acelya's disappearance, they fall apart in order to forget what they have experienced.

One year later, the girls begin receiving messages from a mysterious figure named 'A' who threatens to expose their deepest secrets, including the ones they thought only Acelya knew.
The estranged friends are reunited as they begin receiving messages from 'A'. At first, they think it is Acelya who is sending these messages but soon after, Acelya's body is discovered buried in her yard. So, the girls realize that there is someone else who is planning on ruining their lives.
While trying to figure out the identity of mysterious 'A', the girls also have to handle their own problems. Asli starts to see a young guy Eren (Sukru Ozyildiz) who appears to be her teacher at school.
Selin develops some feelings towards her sister's fiancée. Hande tries to keep in form and fears about gaining weight again.
In pretty little liars (tatli kucuk yalancilar) tv series story, you will explore the lives of young 4 girls whose group leader has disappeared. Will Asli continue to see Eren even though she learns that he is her instructor at school? Will Asli, Selin, Ebru, and Hande manage to figure out the identity of mysterious 'A'? Will the girls manage to find the killer of their friend?
Pretty Little Liars (Tatli Kucuk Yalancilar) Tv Series Cast
Sukru Ozyildiz as Eren
Bensu Soral as Asli
Busra Develi as Selin
Dilan Cicek Deniz as Ebru
Melisa Senolsun as Hande
Beste Kokdemir as Acelya / Akasya
Burak Deniz as Toprak
Merve Cagiran as Janset
Alperen Duymaz as Cesur
Tulay Gunal as Vildan
Esra Ronabar as Ilgin
Mehmet Ozan Doluyan as Baris
Deniz Can Aktas as Seckin
Deniz Hamzaoglu as Necip
Kaan Yilmaz as Ilgaz
Esra Rusan as Melis
Ozge Ozacar as Muge
Gokce Yanardag as Asuman
Olgun Toker as Guven
External Links
Official Site: https://www.startv.com.tr/video/arsiv/dizi/tatli-kucuk-yalancilar
English Wikipedia:
Imdb:
You Might Also Like
Little Secrets (Kucuk Sirlar)
Revenge (Intikam)