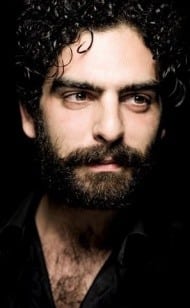 Profile
Name: Mehmet Ali Nuroglu
Birthdate: September 7, 1979
Birthplace: Istanbul, Turkey
Height: 178 cm
Eye Color: Brown
Hair Color: Black
Education: Middle East Technical University Philosophy (ODTU Felsefe); Hacettepe University State Conservatory Theatre (H.U. Devlet Konservatuvari Tiyatro Bolumu)
Spouse: Cicek Nuroglu
Biography: Mehmet Ali Nuroglu studied philosophy at METU but dropped out the schhol at the 3rd year. Then, he started to study at Hacettepe University theatre. While he was going to conservatory, he started to take part in various theatre plays. He made his debut with popular Turkish drama Rose and the Thorn (Cemberimde Gul Oya).
Notable Works
2003 – A Bird Flew From The House (Yuvadan Bir Kus Uctu)
2004 – Rose and the Thorn (Cemberimde Gul Oya) (as Mehmet)
2005 – An Eye For A Tooth (as Omer) (Short Movie)
2005 – Waiting for Heaven (Cenneti Beklerken) (as Sehzade Yakup) (Movie)
2005 – Broken Wings (Kirik Kanatlar) (as Nevzat)
2006 – Island of Hope (Umut Adasi) (as Cetin) (Movie)
2007 – Fairy Dust (Peri Tozu) (as Cem) (Movie)
2007 – Zincirbozan (as Mehmet) (Movie)
2008 – Children of the Otherside (Baska Semtin Cocuklari) (as Semih) (Movie)
2008 – Dot (Nokta) (as Ahmet) (Movie)
2008 – The Trust (Vurgun) (as Tayfun)
2009 – Separation (Ayrilik) (as Spartak)
2009 – Eternal (Sonsuz) (as Remzi) (Movie)
2009 – 2010 The Cost of Living (Omre Bedel) (as Erdem)
2011 – Our Great Despair (Bizim Buyuk Caresizligimiz) (as Bora) (Movie)
2012 – Cliff (Ucurum) (as Adem)
2013 – The Impeccables (Kusursuzlar) (as Ferit) (Movie)
2013 – Winter Sleep (Kis Uykusu) (as Timur) (Movie)
2013 – Tatar Ramazan (as Sabri)
2014 – Beautiful Villager (Guzel Koylu) (as Kaan Yontar)
2016 – Dream (Ruya) (as Yaren) (Movie)
2016 – Canakkale Yuzyillik Muhur
2018 – Lifeline (Sen Anlat Karadeniz – You Tell, The Black Sea) (as Vedat Sayar)
Social
Instagram: https://www.instagram.com/mehmetalinuroglu_/
Twitter:
Facebook:
Gallery