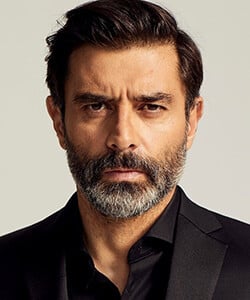 Profile
Name: Cansel Elcin
Birthdate: September 20, 1973
Birthplace: Izmir, Turkey
Height: 183 cm
Eye Color: Brown
Hair Color: Brown
Education: Theatre at Ecole Florent
Talent Agency: B2D Istanbul Management
Spouse: Pinar Apaydin (m. 2012–2017), Zeynep Tugce Bayat (m. 2020-present)
Biography: Cansel Elcin was born in 20 September 1973 in Izmir. His father is a tailor. Cansel Elcin went to primary school in Izmir until 3rd grade and then he moves to Paris together with his family when he was 8 years old. He studied primary and secondary education at Paris Lycee Racine. During high school, he studied literature and language. After then, he started his university education but dropped out school in 6 months. Cansel Elcin worked at textile trade during 1990s. He imported textile products from Turkish cities like Denizli and Bursa and sold them in big department stores. After then, he started to study theatre at Ecole Florent. While studying, he also worked at various part-time jobs such as waitering, bartending, and driving. Cansel Elcin also took acting lessons from John Strasberg and Jack Garfein in New York City. After graduating from Ecole Florent, Cansel Elcin took part in various theatre plays and started his acting career professionally. Besides theatre, he also took part in commercial and cinema. Cansel Elcin also wrote the screenplay of Papillon short movie and directed it in 2007.
Cansel Elcin Tv Series / Movies
1997 – Irma Vep (Movie)
1998 – Harem Suare (as Journaliste) (Movie)
1999 – Le Coeur a L'ouvrage (as Hamlet) (Movie)
1999 – Route De Nuit (as Le Medecin De Garde) (Movie)
2001 – L'art (Delicat) De La Seduction (Movie)
2002 – A+ Pollux (Movie)
2002 – La Crim' (as Vincent Hartmann)
2004 – Tu Vas Rire Mais Je Te Quitte (Movie)
2004 – L'equilibre De La Terreur (as Tarek) (Movie)
2004 – Navarro-Une Femme Aux Abois (Le Chirurgien)
2006 – The Little Apocalypse (Kucuk Kiyamet) (as Zeki) (Movie)
2006 – 2007 Broken Wings (Kirik Kanatlar) (as Cemal)
2006 – 2008 Remember Darling (Hatirla Sevgili) (as Ahmet)
2008 – 120 (as Suleyman) (Movie)
2008 – Children of Cennet (Cennetin Cocuklari) (as Omer)
2009 – Bare Feet on Campus (Kampuste Ciplak Ayaklar) (as Joseph) (Movie)
2009 – Suluboya (as Marco) (Movie)
2009 – Ada (Movie)
2010 – 2011 My Fair Lady (Gonulcelen) (as Murat)
2011 – Love Loves Coincidences (Ask Tesadufleri Sever) (Movie)
2011 – False Spring (Yalanci Bahar) (as Selim/Aziz)
2012 – Poor Road (Kotu Yol) (as Kenan Yilmazer)
2014 – Roya (as Aref) (Short Movie)
2015 – Torn Apart (Eve Donus) (as Yusuf Bozyel)
2015 – La Ou Atilla Passe (as Ahmet) (Movie)
2015 – Our Story (Bizim Hikaye) (as Ismail) (Movie)
2015 – No Before Marriage (Evlenmeden Olmaz) (as Yavuz) (Movie)
2017 – Stay in My Heart (Dayan Yuregim) (as Fuat)
2018 – Don't Cry Mom (Aglama Anne) (as Adnan Alan)
2020 – My Left Side (Sol Yanim) (as Ihsan Kutlusay)
Awards
Social
Instagram: https://www.instagram.com/cnslelcn_official/
Twitter:
Facebook: https://www.facebook.com/canselelcinofficial
E-Mail: [email protected]
Trivia
Body Type:
Skills:
Zodiac Sign:
Blood Type:
Hobbies:
Weight:
Cansel Elcin Gallery