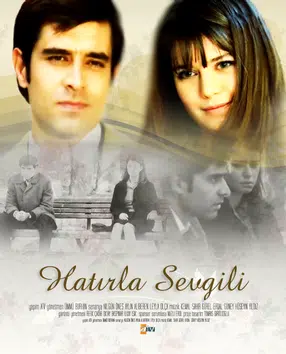 Details
Original Title: Hatirla Sevgili
English Title: Remember Darling
Also Known As: Past Times, Stormy Love (English)
Genre: History, Romance
Episodes: 68
Broadcast Network: ATV
Broadcast Period: October 27, 2006 – June 6, 2008
Production Company: Sis Yapim
Director: Ummu Burhan, Faruk Teber
Screen Writer: Nilgun Ones, Sebnem Citak, Aylin Aliberen
Synopsis
Sevket (Avni Yalcin) and Riza (Engin Senkan) are childhood friends but they develop opposite political views as they grow up. Sevket becomes a public prosecutor who supports the leftist Republican People's Party whereas Riza becomes a member of a right wing Democratic Party. This situation results in an animosity between them although they are childhood friends and close neighbors.
Sevket's son, Ahmet (Cansel Elcin), who is a young, handsome and well-educated lawyer, heads back to Turkey after studying abroad. Ahmet meets Riza's older daughter, Yasemin (Beren Saat) after years of absence and falls in love with her who has a crush on him for years. Their tender love story turns into a tragic love story when both of their families disagree for their relationship.

In this story, you will explore a tragic love story of Yasemin and Ahmet, two young people from confronting families in the political era of Turkey from late 1950s to the military coup in 1980. Will Yasemin and Ahmet who come from opposite families overcome all the obstacles in front of their ways? Will their families supporting rival political parties eventually approve their marriage?
Past Times Tv Series Cast
Cansel Elcin as Ahmet
Beren Saat as Yasemin
Okan Yalabik as Necdet
Avni Yalcin as Sevket
Engin Senkan as Riza
Ayfer Donmez as Isil
Ezgi Asaroglu as Ruya
Ipek Karapinar as Emine
Past Times Tv Series English Trailer
Past Times - Remember Darling Tv Series English Trailer
External Links
Official: http://www.atv.com.tr/webtv/hatirla-sevgili/bolum/
English Wikipedia: https://en.wikipedia.org/wiki/Hatırla_Sevgili
Imdb: http://www.imdb.com/title/tt0878797/
You Might Also Like
The Rose and the Thorn (Cemberimde Gul Oya)
Time Flies (Oyle Bir Gecer Zamanki)