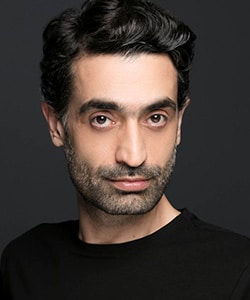 Profile
Name: Diren Polatogullari
Birthdate: February 12, 1980
Birthplace: Istanbul, Turkey
Height: 171 cm
Eye Color: Brown
Hair Color: Black
Education: Mujdat Gezen Art Center – Acting Training (Mujdat Gezen Sanat Merkezi Oyunculuk Egitimi)
Talent Agency: Icon Talent Management
Spouse:
Biography: Diren Polatogullari was born in 12 February 1980 in Istanbul. He took acting lessons at Mujdat Gezen Art Center. He took part in variaous theatre plays and made his debut on television with his role at popular Turkish series Valley of Wolves (Kurtlar Vadisi).

Diren Polatogullari Tv Series / Movies
2009 – Valley of Wolves (Kurtlar Vadisi Pusu) (as Ferman)
2010 – Hidden Lives (Sakli Hayatlar) (as Oguz) (Movie)
2011 – Uskukar'a Giderken (as Ilhan)
2011 – Love and Revolution (Ask ve Devrim) (as Kilic) (Movie)
2011 – The Path of the Faithful (Bir Ses Boler Geceyi) (as Ekrem) (Movie)
2012 – Karadayi (as Ibrahim Durak)
2012 – Last Stop: Salvation (Kurtulus Son Durak) (Movie)
2012 – 2013 The End (Son) (as Kemal Yildirim)
2013 – Fugitive (Kacak) (as Kulaksiz)
2014 – Old Story (Eski Hikaye) (as Metin)
2015 – The Bank of Broken Hearts (Kirik Kalpler Bankasi) (as Huseyin) (Movie)
2016 – Flames of Desire (Hayat Sarkisi) (as Demir)
2016 – Kucuk Esnaf (as Osman) (Movie)
2017 – 2018 Sevkat Yerimdar (as Sefik Ozukotu)
2018 – One Hope Enough (Bir Umut Yeter) (as Salih)
2019 – A Family Story (Bir Aile Hikayesi) (as Sakir Mutlu)
2021 – A.Riza (Ariza) (as Numan)
2021 – Red Room (Kirmizi Oda) (as Hamdi Baba)
2021 – The Bad Penny (Uc Kurus) (as Irfan Kahraman / Ferhan)
2022 – Karanlik Sehir Hikayeleri: Kilit (as Osman) (Movie)
2022 – Golden Boy (Yali Capkini) (as Kazim)
Awards
Theatre Plays
2018 – Don Kisot'um Ben
Social
Instagram:
Twitter:
Facebook:
E-Mail:
Trivia
Body Type:
Skills:
Zodiac Sign: Aquarius
Blood Type:
Hobbies:
Weight: 72 kg
Diren Polatogullari Gallery
The Bad Penny (Uc Kurus) Tv Series – Irfan's History
Üç Kuruş 2. Bölüm - İrfan'ın Geçmişi...