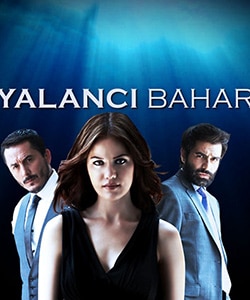 Details
Original Title: Yalanci Bahar
English Title: False Spring
Also Known As: Shadows of the Past
Genre: Romance, Drama
Episodes: 9
Broadcast Network: Star Tv
Broadcast Period: September 05, 2011 – October 31, 2011
Production Company: Gold Film
Director: Serkan Ipekoren
Screen Writer: Nil Gulec Unsal, Ozlem Dumludag, Atilla Unsal, Emre Ozdur, Savas Saylan
Synopsis
Karaman family is a well-known and respected family in Istanbul. Zeynep (Fahriye Evcen) is the daughter-in-law of this family. She is married to Mehmet (Serkan Ercan) and has a son named Omer.
Zeynep is a lovely young woman who has a secret that she cannot tell even Mehmet about. This secret has haunted her for most of her life and is a heavy burden on her shoulders. Although Zeynep has concealed the secret for ten years, one day she realizes that she cannot escape from this secret at all.

That day, she gets a strange present from an unknown person. When she opens the package of her present, she remembers her past: she was a swindler who was working with a guy named Selim (Cansel Elcin); he was attracting rich men by using her deception skills and by this way, she was gaining money.
Zeynep immediately understands that this present has come from Selim who has been in prison for 10 years due to fraud. She is devastated because she does not want to lose her wonderful life.
However, Selim wants to take his revenge on Zeynep and starts to devise sinister plans in order to practice his revenge after 10 years in prison. His arrival transforms Zeynep's life so radically that she will never be able to go back to the way she used to live and her whole life will change.
In shadows of the past – false spring (yalanci bahar) tv series story, you will explore a family which is surrounded with secrets. Will Zeynep's past turn her life into a nightmare? Will Mehmet manage to discover the truth about Zeynep's past and forgive his wife? Will the marriage of Zeynep and Mehmet stand for the secret buried in the past?
Shadows of the Past – False Spring (Yalanci Bahar) Tv Series Cast
Fahriye Evcen as Zeynep
Cansel Elcin as Selim
Serkan Ercan as Mehmet
Merve Sevi as Muge
Ayda Aksel as Safiye
Cevdet Aricilar as Musa
Ahmet Tansu Tasanlar as Aras
Bengi Ozturk as Deniz
Mert Asker as Bahti
Emir Ceylan as Omer
External Links
Official Site: https://www.startv.com.tr/video/arsiv/dizi/yalancibahar
English Wikipedia:
Imdb:
You Might Also Like
Ezel
Ask-i Memnu (Forbidden Love)
Shadows of the Past (Yalanci Bahar) Tv Series Trailer (with English Subtitle)
Shadows of the Past - False Spring (Yalanci Bahar) Tv Series Trailer (Eng Sub)