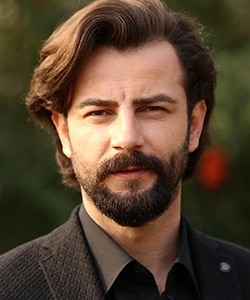 Profile
Name: Gokberk Demirci
Birthdate: October 20, 1989
Birthplace: Izmit, Turkey
Height: 181 cm
Eye Color: Brown
Hair Color: Brown
Education: Acting Lessons at Cengiz Kucukayvaz Theatre
Talent Agency: Icon Talent Management
Spouse:
Biography: Gokberk Demirci was born in 20 October 1989 in Izmit. He is from Adana. After taking acting lessons at Cengiz Kucukayvaz Theatre, he started his acting career. He made his debut with his role at turkish series Ottoman Empire: Rebellion (Bir Zamanlar Osmanli Kiyam) in 2012.
Gokberk Demirci Tv Series / Movies
2012 – Ottoman Empire: Rebellion (Bir Zamanlar Osmanli: Kiyam)
2013 – Osmanli'da Derin Devlet
2015 – Demir Atli Gringo (Movie)
2016 – Yildizlar da Kayar: Das Borak (Movie)
2018 – You Name It (Adini Sen Koy) (as Kilic)
2017 – Love of My Life (Hayatimin Aski) (as Adil)
2018 – Back Streets (Arka Sokaklar) (as Cuneyt)
2019 – 2021 The Promise (Yemin) (as Emir)
Awards
From Interview with Gorberk Demirci
Question: How was your childhood?
Gokberk Demirci: I was always a silent kid. Due to my father's job, I spent most of my childhood along seaside in touch with nature.
Question: Have you travelled a lot due to the fact that your father is sailor?
Gokberk Demirci: Yes. We had to live in different cities. Actually, I find it difficult to adapt easily but I somewhat have solved that problem.
Question: Have you ever said "I wish I lived there, I wish we could not come here etc."?
Gokberk Demirci: Not actually. All parts of Turkey is very beautiful. It is not necessary to live in seaside, I am not in love with sea rather I am in love with nature and animals.
Question: How you have become an actor?
Gokberk Demirci: I am not that type of person who organizes everything. Anything can happen in any time. I used to do exercise a lot. My whole life was all about sports. My acting career started out of pure coincidence. Then, I became very happy while acting.
Question: Are you a romantic person?
Gokberk Demirci: They say so.
Question: Are you penny pincher?
Gokberk Demirci: No, I am not. I am also not wasteful.
Question: What is your biggest dream?
Gokberk Demirci: Animals, antiques, and love. A combination of all of them.
Social
Instagram: https://www.instagram.com/gokberkdemirci/
Twitter:
Facebook:
E-Mail:
Trivia
Body Type:
Skills:
Zodiac Sign: Libra
Blood Type:
Hobbies:
Weight: 77 kg
Gokberk Demirci Gallery