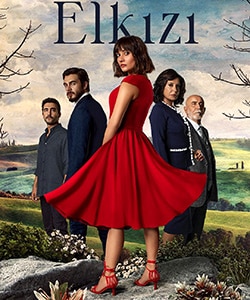 Details
Original Title: Elkizi
English Title: Destiny
Also Known As:
Genre: Drama, Romance
Episodes: 13 (each episode is 120 minutes)
Broadcast Network: Fox Tv
Broadcast Period: October 23, 2021 – 30 January 2022
Production Company: NTC Medya
Director: Feride Kaytan
Screen Writer: Hilal Yildiz; Nazli Sunlu Kacan; Yekta Torun; Serap Gazel
Filming Locations: Mugla, Turkey
Synopsis
Ezo (Sevda Erginci) is a young and beautiful girl who has a difficult life. She is like a prisoner in a big Bozdagli farm. She has a wealthy life together with her father Resul (Fikret Kuskan) and her stepmother.
Ezo is like her mother Zeliha (Sedef Avci) who committed suicide and passed away years ago. She is stubborn and unyielding. She does not obey the rules set by her father.

Resul is an authoritarian man who wants to control everything. He gets angry with Ezo most of the time just because she is like her mother. He even uses physical violence against her daughter.
In order to escape from her life, Ezo secretly goes to school and graduates from the high school. She also secretly studies so hard to pass the national university exam and aims to go to the university. After then, she aims to get married to Ali (Munir Can Cindoruk) whom she has known since her childhood.
On the day of national university exam, Ezo goes to the exam without informing anybody. On her return path, she bumps into a young guy Harun (Ismail Ege Sasmaz).
Harun is a young and handsome man who is a manager of one of Resul's factories. Even though he used to have a wealthy life, he now struggles to pay his huge amounts of debt. He lives together with his mother Nermin who is fond of luxury.
Harun happens to save Ezo's life and later on, he uses this encounter for his benefit. Whenever he meets Ezo, he immediately understands how innocent she is.
Harun makes an evil plan in order to reach his wealthy life again. He decides to win Ezo's heart, persuade her for a marriage, and eventually enjoy her inheritance.
Meanwhile, Ezo learns that her mother passed away not because she committed suicide. She finds out that her father killed her mother and covered the murder case. She wants to take a revenge for all her sufferings. Being so blinded by anger, she burns the family farm.
As a result of a fire, Ezo's father and her step mother pass away. Ezo kills her father but she does not feel remorse. She starts to live together with her grandmother Cavidan (Perihan Savas).
Destiny (Elkizi) tv series story is about a young girl Ezo who kills her own father in order to take her mother's revenge. Will Ezo feel remorse after she kills her father Resul? Will Ezo live in peace after she gains independence? Will Ezo get married to her long dated boyfriend Ali? Will Ezo manage to become successful at the family business? Will Harun manage to win Ezo's heart?
Destiny (Elkizi) Tv Series Cast
Additional Cast Members
Firat Dogruloglu as Selcuk
Alayca Ozturk as Esma Cetin
Birgul Ulusoy as Cevriye Turan
Rahimcan Kapkap as Mert Karasu
Sabriye Gunuc as Zuhal Demir
Sibel Akdeniz as Serpil Senalp
Erkut Emre Sungur as Omer Senalp
Beyza Dolu as Nese Cetin
Mesut Kaytan as Adem Cetin
Gulsehri Mina Kekec as Ezo Bozdagli (Child)
Can Buyukaltay as Cemal Ekici
External Links
Broadcast Network: Fox
English Wikipedia:
Imdb:
Social
Instagram: Official Instagram Account
Twitter: Official Twitter Account
Facebook: Official Facebook Account
Youtube Channel: Official Youtube Channel
You Might Also Like
Woman (Kadin)
Destiny (Elkizi) Tv Series Trailer (with English Subtitle)
Destiny (Elkizi) Tv Series Trailer – 2 (with English Subtitle)
Elkızı 2. Teaser | BENİ NİYE SEVMİYORSUN BABA?