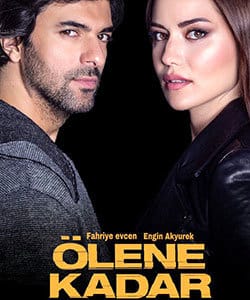 Details
Original Title: Olene Kadar
English Title: Until Death
Also Known As: Eternal, To Death
Genre: Drama, Action, Romance
Episodes: 13
Broadcast Network: ATV
Broadcast Period: January 12, 2017 – April 13, 2017
Production Company: Tims Productions
Director: Umur Turagay
Screen Writer: Elif Usman Erguden
Synopsis
Daghan (Engin Akyurek) is a talented young doctor who is trained to get his proficiency. He has a moderate life with his parents and his little sister. When he learns that his girlfriend Beril (Gulcan Arslan) is pregnant, they decide to get married as soon as possible. Even though his family does not approve the marriage at the beginning, he persuades them that he can work and study at the same time and can give a happy life to his lover.
Daghan and his family go to Beril's house to get her father's approval for the marriage. However, they are rejected at the door even without meeting in person. They feel humiliated but Daghan never gives up his love. He gets Beril without her father's approval and plan to get married.
On their wedding day, Daghan gets a call from Beril's father and goes to the meeting place with the hope of making peace. However, he falls into a big trap: Daghan is narcotized meanwhile a hitman shots Beril's father, a little girl gives false testimony and Daghan is accused by the murder. He cannot persuade that he is innocent and he is sentenced to life imprisonment. He loses his hope, his future, his lover and the most beautiful days of his lives due the crime that he has never committed.
11 years later, an ambitous young lawyer Selvi (Fahriye Evcen) finds Daghan and wants to correct injustice. Selvi has a deep, dark secret that has haunted her for most of her life. She is the one who gave false testimony against Daghan 11 years ago. Due to the fact that she has been suffering a pang of conscience, she wishes to correct all the mistakes that she made when she was a little child. Without disclosing her true identity, Selvi meets Daghan and reopens his case with providing new evidence.
After 11 years, Daghan manage to prove his innocence. Immediately after he gets out of jail, he plots revenge against all the people who puts him in prison. He never gives up until the truth is revealed even at the expense of putting his beloved ones in danger. Justice system creates a criminal from an innocent man. There must be a cost for these lost years.
You will explore Olene Kadar tv series story about agonizing love and tragic life of a man and a woman. What will happen when Daghan learns about Selvi's ugly truth about her past? Will Daghan manage to learn all the truth about the past and gets his revenge? What will Beril do when she learns that Daghan is innocent? Will Daghan eventually find happiness and peace in his life?
Until Death Cast
Engin Akyurek as Daghan
Fahriye Evcen as Selvi
Sarp Levendoglu as Ender
Gulcan Arslan as Beril
Tansu Bicer as Yilmaz
Aydan Cakir
External Links
Official Site: http://www.atv.com.tr/webtv/olene-kadar/bolum
English Wikipedia:
Imdb: http://www.imdb.com/title/tt6396252/
You Might Also Like
Black Money and Love (Kara Para Ask)
Gallery
Until Death (Olene Kadar) Trailer (Eng Sub)
Until Death (Olene Kadar)(Eternal) Trailer (Eng Sub)