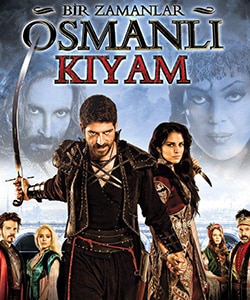 Details
Original Title: Bir Zamanlar Osmanli Kiyam
English Title: Once Upon a Time in the Ottoman Empire: Rebellion
Also Known As:
Genre: Historical, Action, Romance, Drama
Episodes: 20
Broadcast Network: TRT 1
Broadcast Period: January 07, 2012 – December 17, 2012
Production Company: Hersey Film
Director: Altan Donmez
Screen Writer: Ertan Kurtulan, Hilal Yildiz, Gursel Korat, Abdullah Akin
Synopsis
The story takes place in the 18th century when III. Ahmet is the sultan of Ottoman Empire. During that period, Ottoman Empire is exposed to lots of foreign provocations. One of the biggest provocations derives from Iran.
In order to take over Ottoman Empire, Iranian Shah makes a plan and sends his son to Istanbul. He wants to make his son as the next sultan of the Ottoman Empire. To fulfill this plan, he gets the help of Kasim (Tolga Karel) and his sister Canseza (Asli Tandogan) who are the enemy of the Ottoman Empire.
Kasim and Canseza always want to take their revenge from Ottoman Empire because they have lost their father for no reason under this regime. They decide to become partner with Iranian Shah and by this way, try to collapse the Ottoman Empire.

To execute their evil plans, Kasim and Canseza take the son of Iranian Shah and go to Istanbul. On the other hand, Hatice Sultan (Turkan Soray), who is the sister of Sultan III. Ahmet and who lives in the palace, follows the latest news in the Ottoman Empire.
Hatice Sultan knows that in the near future there would be rebellions in Istanbul due to foreign provocations but, she could not learn the details about these provocations. She works with some trustworthy personnel and tries to prevent rebellions. However, she never imagines that this time, it would be too difficult to establish peace.
In the process of discovering the conspiracy about Ottoman Empire, Hatice Sultan loses her best man. Because of this murder, Murat (Cemal Hunal) finds himself in the middle of events.
Murat is a young and handsome man who lives with his wife peacefully. However, his wife is killed by Kasim when she becomes the only witness of the murder.
For this reason, Murat starts to work with Hatice Sultan and wants to find the killer of his wife. However, the story becomes more complicated when Canseza falls in love with Murat.
In ottoman empire: rebellion (bir zamanlar osmanli: kiyam) tv series story, you will watch a true historical story while exploring mystery, twisting events, love, friendship, and hatred at the same time. Will Iranian Shah fulfill his evil plans? Will Canseza forget her hatred and start a new life with Murat? What will happen when Murat learns about the evil plans of Canseza and Kasim? Will Patrona Halil Rebellion bring lots of costs to the Ottoman Empire?
Ottoman Empire: Rebellion (Bir Zamanlar Osmanli: Kiyam) Tv Series Cast
Turkan Soray as Hatice Sultan
Tolga Karel as Bilal (nickname blond)
Cemal Hunal as Kasim
Asli Tandogan as Canseza
Firat Tanis as Patrona Halil
Hazim Kormukcu as Damat Ibrahim
Oyku Celik as Cesmidil
Ozcan Deniz as Serhat
Aslihan Guner as Esma
Teoman Kumbaracibasi as Muslu Bese
Kerem Atabeyoglu as III. Ahmet
Mehrnoosh Esmailpour as Sehrazad
Cem Ucan as Ramazan
Cenk Gurpinar as Yunus
Yilmaz Serif as Nazim Seyh
Mehmet Atay as Ispiri Zade Mehmet
Bulent Polat as Ahmet
Mustafa Uzunyilmaz as Kaymakci Mustafa
Bora Akkas as Sehzade Mahmud
Esra Ozuver as Rabia Sultan
Leyla Goksun as Fatma Sultan
Nurettin Sonmez as Gaddar Ali
Mert Karabulut as Dervis
Zeynep Nur Caglayan as Cemregul
Oktay Berk Yesilyurt as Mehmet
Deniz Akel as Bibi
Suat Sungur as Ibrahim Muteferrika
Burc Kasapci as Kulhanbey
External Links
Official Site:
English Wikipedia: Wikipedia
Imdb: Imdb
You Might Also Like
Magnificent Century (Muhtesem Yuzyil)
Resurrection Ertugrul (Dirilis Ertugrul)