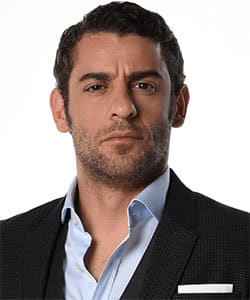 Profile
Name: Daghan Kulegec
Birthdate: October 18, 1978
Birthplace: Istanbul, Turkey
Height: 170 cm
Weight: 68 kg
Eye Color: Brown
Hair Color: Black
Education: Istanbul University Literature Faculty (Istanbul Universitesi Edebiyat Fakultesi)
Spouse:
Biography: Daghan Kulegec is the grandson of popular Turkish theatre actor Altan Erbulak. His mother is actress and writer Ayse Erbulak and his father is calligrapher Riza Kulegec. Daghan Kulegec worked in various positions: he worked together with montage team for Sıcagi Sicagina program during 1994-1998, he was assistant manager for Arka Pencere Advertising firm in 2000, he was assistant director for the program named A Team (A Takimi) in 2002, and he was assistant director for G.A.G program during 2002-2003. Daghan Kulegec became very popular with his role Efe in popular Turkish drama Daydreaming (Kavak Yelleri).
Notable Works
1998 – Father, Buy Me Rating (Baba Bana Reyting Al)
2003 – 2004 High School Diary (Lise Defteri) (as Serhat)
2005 – 2006 Thief and Police (Hirsiz Polis) (as Jilet Metin)
2007 – 2010 Daydreaming (Kavak Yelleri) (as Efe Kaygisiz)
2013 – Conquerer (Fatih) (as Mr. Turahan)
2014 – 2015 Cherry Season (Kiraz Mevsimi) (as Mete Uyar)
2017 – New Bride (Yeni Gelin) (as Kagan Bozok)
Social
Instagram: https://www.instagram.com/daghankulegec/
Twitter:
Facebook:
Gallery