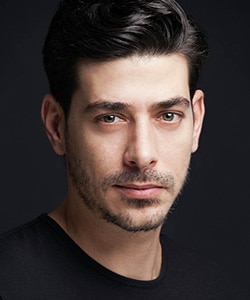 Profile
Name: Alper Saldiran
Birthdate: September 16, 1984
Birthplace: Istanbul, Turkey
Height: 1.73 m
Eye Color: Green
Hair Color: Black
Education: Yeditepe University Fine Art School – Theatre (Yeditepe Universitesi Guzel Sanatlar Fakultesi Tiyatro Bolumu)
Talent Agency:
Spouse: Pinar Tuncegil (m. 2013–2019)
Biography: Alper Saldiran was born in 16 September 1984 in Istanbul. While he was a little child, he started to be interested in art. When he was 5 years old, he got on the stage for school theatre plays. Throughout primary school, Alper Saldiran continued theatre and also, folkloric dance. When he started secondary school, he was interested in music and started to play electric guitar. After high school, he studied tourism at Marmara University but dropped out school after 2 years. Then, he studied theatre at Yeditepe University. While he was studying at the university, he took part in theatre play named Fehim Pasa Konagi written by Turgut Ozakman and won the award of best actor in supporting role at competition among universities. After graduating from Yeditepe University, Alper Saldiran took part in various theatre plays and tv projects.

Alper Saldiran Tv Series / Movies
2003 – Ne Kimse Sorar Halim (Short Movie)
2004 – A Piece of Love (Bir Dilim Ask) (as Burak)
2006 – Huzun Dolayisiyla Kapaliyiz (Short Movie)
2007 – Black Pearl (Kara Inci) (as Seckin)
2008 – Remedy (Derman) (as Tuna)
2008 – Angels Bless You (Melekler Korusun) (as Baris)
2010 – Above the Ground (Yerden Yuksek) (as Feyyaz)
2011 – Anatolian Eagles (Anadolu Kartallari) (as Fatih Karakus) (Movie)
2011 – Misafir (Short Movie)
2012 – World of Humans (Insanlar Alemi) (as Can)
2012 – Sag Salim (as Recai) (Movie)
2013 – Never End Like This (Boyle Bitmesin)
2013 – 2015 Love Me As I Am (Beni Boyle Sev) (as Omer)
2014 – Intermezzo (Short Movie)
2015 – My Heart is in Aegean (Kalbim Ege'de Kaldi) (as Mustafa)
2016 – Seni Seven Olsun (as Bulut) (Movie)
2017 – Love and Pride (Ask ve Gurur) (as Murat)
2017 – Almond Sugar (Badem Sekeri 1/2/3/4/5) (as Mehmet Seker) (Movie)
2018 – Anamiz Var (as Oguz) (Movie)
2018 – Bir Umut Yeter
2019 – A Family Story (Bir Aile Hikayesi) (as Erdem Beyaz)
2019 – Anamiz Var 2 (as Oguz) (Movie)
2019 – Gecmis Olsun (Movie)
2020 – The Innocents People (Masumlar Apartmani) (as Uygar)
2020 – Jet Society (Jet Sosyete) (as Tuncay)
2021 – Recipe of Love (Askin Tarifi) (as Taylan Gunebakan)
2021 – Be My Sunshine (Ada Masali) (as Burak)
2021 – Askim Bahardi (Movie)
2021 – Aska Dair (Movie)
2022 – Sil Bastan Kaynanam (as Unal) (Movie)
2022 – Yakamoz S-245 (Into the Deep) (as Kenan)
2023 – Altay (as Gazi)
Awards
Theatre Plays
2003 – Fehmi Pasa Konagi
2007 – Son Dunya
2008 – Babil Kulesi
2009 – Hizmetciler
2012 – Cehov Makinasi
2017 – 2020 Kurk Mantolu Madonna
Social
Instagram: Instagram – alpersaldiran
Twitter: Twitter – @alpersaldiran
Facebook: Facebook – AlperSaldiranOfficial
Alper Saldiran Gallery