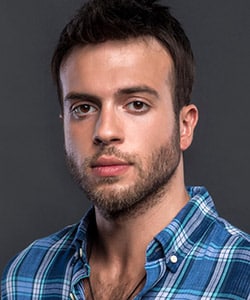 Profile
Name: Kenan Acar
Birthdate: March 6, 1990
Birthplace: Izmir, Turkey
Height: 191 cm
Eye Color: Brown
Hair Color: Black
Education: Istanbul Technical University-SUNY Business Administration Double Major (Istanbul Teknik Universitesi Isletme Bolumu)
Talent Agency: Asiye Kocaman Casting
Spouse:
Biography: Kenan Acar was born in 6 March 1990 in Izmir. He started to study business administration and studied 2 years in Istanbul Technical University and 2 years in New York State Universityas part of his double major program. While he was studying at New York in the USA, he started to take acting lessons from Stella Adler Acting Studio and worked with actor coach Anthony Bova for 2 years. He made his debut with his role in The Following in 2013. He started his acting career in Turkey with his role as Murat in popular Turkish series Tide (Medcezir). While he was taking part in various television series, he also took acting lessons at Craft Oyunculuk Atolyesi in Istanbul. Kenan Acar is interested in basketball and played basketball in KSK and Tuborg until his college education.

Kenan Acar Tv Series / Movies
2014 – 2015 Tide (Medcezir) (as Murat)
2015 – Gamsiz Hayat (as Arda)
2016 – 2017 Cesur Yurek (as Ali Ekber)
2017 – Papatya (as Umut) (Movie)
2017 – 2018 Meryem – Tales Of Innocence (as Guclu Tekiner)
2018 – My Name is Feridun (Benim Adim Feridun) (as Dogukan) (Movie)
2018 – 2019 Hold My Hand (Elimi Birakma) (as Kadir Karan)
2019 – The Hunt (Av)
2019 – 2020 The Boy (Cocuk) (as Murat Karasu)
2020 – Av (Movie)
2021 – Elbet Bir Gun (as Murat Guven)
2022 – Ilginc Bazi Olaylar (as Deniz)
2022 – Forbidden Fruit (Yasak Elma) (as Altay Guven)
2022 – Sadece Arkadasiz (as Soner)
Awards
Social
Instagram: @kenanacr
Twitter:
Facebook:
E-Mail: Contact
Trivia
Body Type:
Skills:
Zodiac Sign: Pisces
Blood Type:
Hobbies:
Weight: 81 kg
Gallery
Kenan Acar Showreel