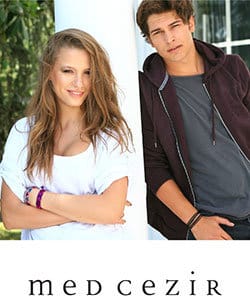 Details
Original Title: Medcezir
English Title: Tide
Also Known As: Aashiyana
Genre: Youth, Romance, Drama
Episodes: 77
Broadcast Network: Star Tv
Broadcast Period: September 13, 2013 – June 12, 2015
Production Company: Ay Yapim
Director: Ali Bilgin
Screen Writer: Ece Yorenc, Melek Gencoglu
Filming Locations: Istanbul; Bursa Turkey
Synopsis
This tv series is a remake of a popular American tv series The O.C.
Yaman (Cagatay Ulusoy) is a young guy who lives in a poor neighborhood in Istanbul with his mother, his brother and his step-father. Actually, Yaman is a good guy who has a potential to be successful in school life if a chance is given to him.
However, he finds himself in the wrong place at the wrong time. His troublesome elder brother causes another problem but this time, he drags Yaman into trouble too. While they are trying to steal a car, they are arrested by the police.
In court, Yaman and his brother are defended by a successful lawyer Selim (Baris Falay). Selim immediately realizes Yaman's potential and strongly believes that this young guy can become successful if he is given a chance.
For this reason, Selim tries his best to save both Yaman and his brother. Since Yaman is a teenager who is involved in a crime for the first time, he is released by court decision. However, his brother is sentenced for one year in prison.

After this event, Yaman finds himself at the edge of a new life. He is kicked off from his house by his step-father and he has nowhere to go. At that time, Selim gives his hand to Yaman because he sees his youth in this poor guy.
Selim gives a room to Yaman at his house and wants to hire him as a gardener. Now, Yaman starts to live in a rich neighborhood and tries to stay away from trouble.
While searching for peace, safety and happiness in Selim's house, Yaman meets pure love. At first sight, he is attracted to the young and beautiful girl Mira (Serenay Sarikaya) who is living at the house next to the house of Selim. As time passes, Yaman and Mira fall completely into each other.
In tide (medcezir) tv series story, you will explore youth relations in a high-class society while watching the love between Yaman and Mira. You will also see the life of Yaman who tries to adjust himself into his new life while discovering a pure love. Will Yaman adjust from living in a poor neighborhood to living in a high-class society? Will the love between Yaman and Mira stand for class differences and all other obstacles? Will Yaman manage to save his future and never go back to his old lifestyle?
Tide (Medcezir) Tv Series Cast
Cagatay Ulusoy as Yaman Koper
Serenay Sarikaya as Mira Beylice
Taner Olmez as Mert Asim Serez
Mine Tugay as Ender Serez
Baris Falay as Selim Serez
Hazar Erguclu as Eylul Buluter
Sebnem Donmez as Sude Beylice
Murat Aygen as Faruk Beylice
Can Gurzap as Asim Sekip Kaya
Metin Akdulger as Orkun Civanoglu
Defne Kayalar as Sedef Kaya
External Links
Official Site: https://www.ayyapim.com/medcezir
Youtube Channel: https://www.youtube.com/user/medcezirtv/
English Wikipedia:
Imdb:
You Might Also Like
Daydreaming (Kavak Yelleri)
Little Secrets (Kucuk Sirlar)
I Named Her Feriha (Adini Feriha Koydum)
Tide (Medcezir) Tv Series Gallery
Tide (Medcezir) Tv Series Trailer (with English Subtitle)
Tide (Medcezir) Tv Series Trailer – 1