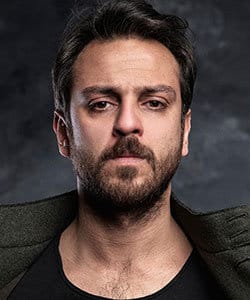 Profile
Name:
Erkan Kolcak Kostengil
Birthdate:
January 16, 1983
Birthplace:
Bursa, Turkey
Height:
180 cm
Eye Color:
Brown
Hair Color:
Brown
Education:
Mimar Sinan University Theatre (Mimar Sinan Universitesi Tiyatro Bolumu); Bursa Ataturk High School
Talent Agency:
Yasemin Ozbudun Talent Management
Spouse:
Cansu Tosun
(m. 2018-present)
Biography:
Erkan Kolcak Kostendil wrote and directed the first facebook movie Mukadderat (2009). His short movie Vakit also won "Best Scenario – Best Image" award at Galatasaray University Sinapark Short Movie Contest; "Best Movie-Best Director" award at Kral Midas Short Movie Contest; and "Best Scenario-Best Director-Best Image-Best Movie" award at 47. Antalya Golden Orange Film Festival. Drugs of Dealer (Torbacinin Esrari) is another movie that he wrote and directed. He also acted in short movies like "Tarot" and "Inside the Door". Erkan Kolcak Kostendil became popular with his role in popular Turkish drama Mercy (Merhamet).
Erkan Kolcak Kostengil Tv Series / Movies
2008 – Fall Sorrow (Guz Sancisi) (as Numayisci) (Movie)
2009 – M.A.T. (as Emre)
2009 – 2010 Sakarya Firat (as Mahmut Karakum)
2012 – Fathers and Their Children (Babalar ve Evlatlar) (as Ayhan)
2013 – Mercy (Merhamet) (as Mehmet)
2014 – One Night in Istanbul (Movie)
2014 – Buddy Istanbul (Ulan Istanbul) (as Karlos)
2014 – Rain: Flower of Judgement Day (Yagmur: Kiyamet Cicegi) (as Senol) – the movie
2014 – I Have an Objection (Itirazim Var) (as Superman) – the movie
2015 – Black Trouble (Kara Bela) (as Guven) (Movie)
2015 – 2016 Magnificent Century: Kosem (Muhtesem Yuzyil: Kosem) (as Sahin Giray Han)
2015 – Team: For the Love of Neighborhood (Takim: Mahalle Askina) (Movie)
2015 – Not Anymore (Yok Artik) (as Fikret) (Movie)
2016 – Familya (as Toprak Beyoglu)
2017 – My Father (Babam) (Movie)
2017 – Bir Deli Sevda (as Mehmet)
2017 – Visible Man (Gorunen Adam) (as Kurtulus)
2017 – Put Seylere (Movie)
2017 – 2018 The Pit (Cukur) (as Sadettin From Varto)
Writer and Director
Meeting Art with Opposite Sex (Karsi Cins ile Tanisma Sanati) – Theatre Play
Mukadderat – The first facebook movie in Turkey
Time (Vakit) – Short Movie
Drugs of Dealer (Torbacinin Esrari) – Movie
Tirnik – DVD series
Awards
2015 – GQ Men of the Year – Rising Star of the Year
2015 – Magazine Journalists Association (Magazin Gazetecileri Dernegi) – Jury Special Prize Award (Buddy Istanbul) – Juri Ozel Odulu (Ulan Istanbul)
2012 – 17. Sadri Alisik Cinema and Theatre Awards (17. Sadri Alisik Sinema ve Tiyatro Odulleri) – Young Actor Special Award (Aut) – Genc Oyuncu Ozel Odulu (Aut)
2010 – Galatasaray University 4. Sinepark Short Movie Contest (Galatasaray Univ. 4. Sinepark Kisa Film Yarismasi) – Best Scenario and Best Image (Time) – En Iyi Senaryo, En Iyi Goruntu Odulu (Vakit)
2010 – Kral Midas Short Movie Contest (Kral Midas Kisa Film Yarismasi) – Best Movie and Best Director (Time) – En Iyi Film, En Iyi Yonetmen Odulu (Vakit)
2010 – 47. Antalya Golden Orange Film Festival (47. Antalya Altin Portakal Film Festivali Ozel Gosterim) – Best Scenario, Best Image, Best Movie and Best Director (Time) – En Iyi Senaryo, En Iyi Goruntu, En Iyi Yonetmen, En Iyi Film Odulu (Vakit)
Theatre Journal Theatre Awards (Tiyatro Dergisi Tiyatro Odulleri) – Best Actor (Aut) – En Iyi Erkek Oyuncu (Aut)
Tobav Theatre Apprentices Theatre Awards (Tobav Tiyatro Ciraklari Tiyatro Odulleri)– Best Young Actor (Aut) – En Iyi Genc Erkek Oyuncu (Aut)
Social
Instagram: https://www.instagram.com/erkankeka/
Twitter: https://twitter.com/erkankeka
Facebook:
Youtube: https://www.youtube.com/channel/UChGTtzDzvbFQO_tswP3dPZw/
E-Mail:
Trivia
Body Type:
Skills:
Star Sign:
Blood Type:
Hobbies:
Erkan Kolcak Kostengil Gallery
Showreel
Erkan Kolcak Kostengil #ErkanKolcakKostengil