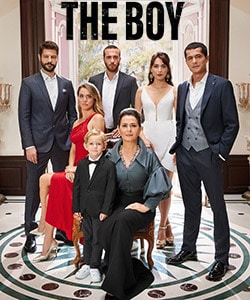 Details
Original Title: Cocuk
English Title: The Boy
Also Known As:
Genre: Family, Drama
Episodes: 18
Broadcast Network: Star TV
Broadcast Period: 9 September 2019 – 28 January 2020
Production Company: 1141 Produksiyon
Director: Serkan Birinci
Screen Writer: Nazli Sunlu Kacan, Nalan Merter Savas, Serap Gazel
Filming Locations: Istanbul, Turkey
Synopsis
Asiye (Nazan Kesal) is a strong woman who comes from a wealthy family. Against her father's will, she runs away with a man whom she loves. She gets pregnant before marriage but she becomes all alone when her lover passes away.
Asiye has nothing to do but to return to her parents. When she gives a birth to a baby boy, her father gives the new born baby to the orphanage without her approval. After then, Asiye gets married to a wealthy man and starts her new life.
Asiye keeps her past secret from her family. She seems to have a perfect life but she secretly continues to keep track of her son who was given to the orphanage. Years later, Asiye finds out his son Hasan (Ismail Hacioglu) but cannot disclose her identity.

Hasan (Ismail Hacioglu) has grown up in difficulty and has gone off the rails. Even though he has mercy and sympathy deep inside, he cannot control his anger easily. He becomes a troublemaker and gets involved in illegal activities. He falls in love with a beautiful girl Akca (Merve Cagiran) and wants to get affection and compassion that he has longed for.
Akca is the daughter of a prostitute. While aiming to escape from the misery of her life, Akca gets pregnant from her lover Hasan but soon later she comes across to the reality. Hasan starts to beat her and destroys her dream of happiness.
When Hasan is put into prison, Akca gives birth to a baby boy and decides to give him up for adoption in order to save her baby. She confronts a wealthy and powerful family and accepts to give her baby in the hope for a happy life.
Asiye is the one who adopts the baby boy. She does not reveal her true identity while taking her biological grandson. She entrusts the upbringing of her grandson to her daughter-in-law. Asiye makes this decision in order to protect her grandson as well as in order to save the marriage of her eldest son Ali Kemal (Serhat Teoman).
Ali Kemal (Serhat Teoman) is in charge of the family business after his father abandons the family home. He is married to Sule (Ceyda Ates Toplusoy) but has some problems in his marriage. He gives up his decision of divorce due to his wife's pregnancy. However, Sule has a miscarriage in the latest days of her pregnancy.
When Sule's baby dies during delivery, she accepts to raise the adopted baby boy in order to save her marriage. She and her mother-in-law Asiye keeps this secret from anyone.
Ali Kemal and Sule raises the baby boy Efe as their own baby. Ali Kemal does not know that his biological son has passed away. Without knowing this fact, he raises Efe with tender and love. The infant Efe lives a charmed life in a big house and has been raised happily by his new family.
5 years later, the life of Efe turns upside down when Sule gives birth to her own son. Sule gives all her love and affection to her biological son and starts to ignore Efe whom she adopted five years ago. Due to this sudden change in her behaviors, Efe gets through a hard time.
Sule's behavior is criticized by her husband and mother-in-law. She is advised to get a psychological treatment in order to correct her behavior. The more Sule is criticized the more she moves away from her adopted boy. Sule wants to get rid of Efe in order to live happily together with her husband and her biological son.
Akca's life turns upside down when she learns that her biological son is not happy. She is not a perfect mother but still she wants to ensure that her son is safe and in peace.
Out of pure coincidence, Akca comes across to her biological son Efe when he is abandoned by Sule in a crowded area in Istanbul. Akca safely returns him and after then saves his life.
The story becomes more complicated when Asiye's illegitimate son Hasan gets out of prison and looks for his true love Akca. He does not know that his son is alive and has been living together with his half-brother Ali Kemal.
The Boy (Cocuk) tv series story is about a wealthy family which is surrounded with many secrets. Will Ali Kemal learn that Efe is not his biological son? Will Ali Kemal manage to discover the truth about his past and forgive his wife and his mother? Will the marriage of Ali Kemal and Sule stand for the secret buried in this family? Will Hasan learn that he is the illegitimate son of Asiye? Will Hasan and Akca live in peace together with their biological son Efe?
The Boy (Cocuk) Tv Series Cast
External Links
Official Site: Broadcast Network
English Wikipedia:
Imdb:
Social
Instagram: @cocuk.dizisi
Twitter: @CocukDizisi
Facebook: @cocukdizisi
Youtube Channel: @cocukdizi
You Might Also Like
Burned Cocoon (Yanik Koza)
The Boy (Cocuk) Tv Series Trailer (with English Subtitle)
The Boy (Cocuk) Tv Series Trailer 2 (Eng Sub)