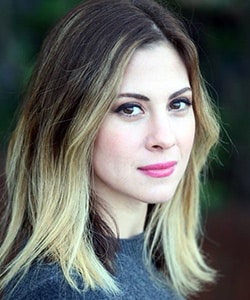 Profile
Name: Melis Babadag
Birthdate: January 17, 1984
Birthplace: Adana, Turkey
Height: 167 cm
Eye Color: Brown
Hair Color: Brown
Education: Marmara University Fine Arts School – Interior Design (Marmara Universitesi Guzel Sanatlar Fakultesi Ic Mimarlik Bolumu)
Talent Agency:
Spouse: Yigit Ozer (m. 2015-2019)
Biography: Melis Babadag was born in Ankara on January 17, 1984 yet grew up in Adana. She graduated from Uskudar Anatolian High School in 2001 and Marmara University Faculty of Fine Arts (interior design) in 2007. She was interested in theatre since 5 years old and played in theatre plays as an amateur. She took acting lessons from Ayla Algan and Ergün Demir. Melis Babadag became well-known with her role at Turkish youth series Dirty Seven (Pis Yedili). She has been interested in painting since 3 years old. Melis Babadag also loves to be part of social responsibility projects and in 2016, she was among the speakers of the meeting organized by the Children's Rheumatology Association to draw attention to rheumatic diseases in children. She is also a member of the board of directors of the SocialBen Foundation, which supports the social development and social identity of children between the ages of 7 and 13 living in disadvantaged areas.
Melis Babadag Tv Series / Movies
2009 – Cam Kiriklari (as Emine)
2009 – Aile Saadeti (as Didar)
2009 – Fig Jam (Incir Receli) (as Duygu) (Movie)
2010 – Large Family (Genis Aile) (as Sevval)
2011 – Don't Forget Me (Beni Unutma) (as Sevda) (Movie)
2011 – 2014 Dirty Seven (Pis Yedili) (as Elcin)
2014 – Mihrap Yerinde (as Pelin)
2014 – Green Sea (Yesil Deniz) (as Zumrut)
2015 – Ertugrul 1890 (as Hatice) (Movie)
2016 – Oglan Bizim Kiz Bizim (as Zeynep) (Movie)
2017 – Elimiz Mahkum (as Nil) (Movie)
2019 – Brother in Love (Aykut Eniste) (as Gulsah) (Movie)
2020 – Ask Cagirirsan Gelir (as Dilara) (Movie)
2021 – Barbarossa: Sword of the Mediterranean (Barbaroslar: Akdeniz'in Kilici) (as Zeynep)
2021 – Brother in Love 2 (Aykut Eniste 2) (as Gulsah) (Movie)
Awards
Social
Instagram: https://www.instagram.com/melissbabadag/
Twitter: https://twitter.com/melisbabadag
Facebook:
E-Mail: [email protected]
Trivia
Body Type:
Skills:
Zodiac Sign: Capricorn
Blood Type:
Hobbies:
Weight: 54 kg
Melis Babadag Gallery
Aykut Eniste Movie Trailer (Comedy)