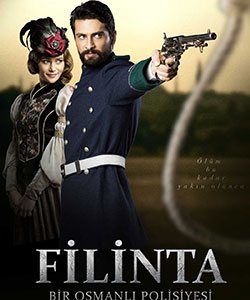 Details
Original Title: Filinta
English Title: Filinta
Also Known As:
Genre: Action, Crime, Mistery, History
Episodes: 56
Broadcast Network: TRT 1
Broadcast Period: December 23, 2014 – April 22, 2016
Production Company: Es Film
Director: Osman Kaya, Omer Gokhan Erkut
Screen Writer: Omer Genc, Altug Kucuk
Synopsis
Filinta is the first Ottoman detective story in the history of Turkish television. The drama takes place between the years 1850 and 1900.
Filinta Mustafa (Onur Tuna) is a young and successful police officer in the 19th century Istanbul, in the Ottoman era. He and his teammates are working hard to keep the peace in the streets of the Ottoman Empire. They are trying to catch the leader of the gun smuggling and organize intelligent plans to disclose the identity of this leader step by step.
However, one day, Mustafa and his close friend Ali (Cem Ucan) find themselves in a big ambush planned by a wealthy merchant Boris (Serhat Tutumluer).
Boris, in fact, is the mafia leader who is behind these entire gun smuggling activities. But, nobody is actually aware of his illegal activities because Boris only works with his loyal men and kills others that know his identity.

Mustafa's close friend Ali is killed in this ambush. While Mustafa feels sorry for not being able to save his friend, he finds himself in a desperate situation. Mustafa is accused of setting this ambush, killing Ali, and accepting brides from illegal activities.
A charismatic and successful Khadi (a high level judge) Giyaseddin Hatemi (Mehmet Ozgur) is assigned to proceed the case of Mustafa. Khadi Giyaseddin Hatemi is the tutor of Mustafa and knows his innocence but he has to prove Mustafa's innocence with evidence.
On the court, many false witnesses give testimony against Mustafa and accuse him as taking bribes, oppressing the poor and so on.
Mustafa introduces one of his colleagues as his own witness in response to all these allegations. However, he is also betrayed by his close colleague and is eventually sentenced to death.
Despite all these allegations, Khadi Giyaseddin Hatemi knows that there is a big conspiracy against Ottoman police department and for this reason, he wants to save Mustafa. He cannot change his decision on the court because he does not have sufficient evidence. Thus, he talks with Ottoman Sultan (his former student) and explains the situation.
Ottoman Sultan gives an order that could be a solution for this problem: Filinta Mustafa will return to his position at the Istanbul police department, will work on this conspiracy and find the true culprits within 1 year; if he cannot prove his innocence within 1 year, he will be sentenced to death.
Mustafa starts to investigate this conspiracy but falls in love with the beautiful daughter of his enemy conspiring against him, Lara Zaharyas (Damla Aslanalp)
In filinta tv series story, you will explore an Ottoman detective drama during the years 1850-1900. Will Mustafa manage to prove his innocence within 1 year? What will Mustafa do when he learns that he falls in love with the daughter of his enemy? Will Mustafa manage to catch Boris and disclose his illegal identity?
Filinta Tv Series Cast
Onur Tuna as Filinta Mustafa
Serhat Tutumluer as Boris Zaharyas
Mehmet Ozgur as Kadi Giyasettin Hatemi
Naz Elmas as Azize
Damla Aslanalp as Lara Zaharyas
Hakan Yufkacigil as Sansar Cemil
Bulent Alkis as Sultan
Kaan Urgancioglu as Otto Petrovic
Nur Fettahoglu as Sureyya
Berrak Tuzunatac as Farah
Asena Tugal as Leyla
Hakan Kurtas as Sultan Abdülhamid Han
Hazim Kormukcu
Wilma Elles as Anita
Cem Ucan as Bicak Ali
Kayra Senocak as Hasan
Ebubekir Ozturk as Bekri
Yosi Mizraki as Esat Pasha
Kamil Guler as Abdullah
Reshad Strik as Zulfu
Kemal Zeydan as Zeyrek
External Links
Official Site: https://www.esfilm.com.tr/filinta/
Official Site 2: https://www.trt1.com.tr/arsiv/filinta
English Wikipedia:
Imdb:
You Might Also Like
Karadayi (Karadayi)
Filinta Tv Series Gallery