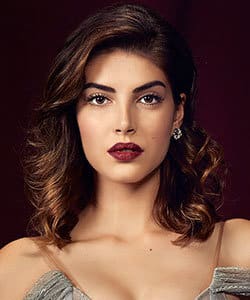 Profile
Name: Deniz Baysal
Birthdate: April 5, 1991
Birthplace: Izmir, Turkey
Height: 167 cm
Eye Color: Hazel
Hair Color: Brown
Education: Celal Bayar University – International Trade (still continues) (Celal Bayar Universitesi Uluslararasi Ticaret Bolumu)
Talent Agency: Kahraman Ozden Talent Management
Spouse: Baris Yurtcu (m. 2019-present)
Biography: Deniz Baysal Yurtcu was born in 5 April 1991 in Izmir. She went to Izmir Karsiyaka Primary School and Tegmen Ali Riza Akinci Anatolian High School. She worked at Karsiyaka Municipality Theatre for 10 years. She took part in various tv projects as well as tv commercials. In 2019, Deniz Baysal got married to Baris Yurtcu (solist of Kolpa Music Group).
Deniz Baysal Tv Series / Movies
2011 – Deep Waters (Derin Sular) (as Nisan)
2012 – Fathers and Children (Babalar ve Evlatlar)
2013 – Love, Bread and Dream (Ask Ekmek ve Hayaller)
2014 – Runaway Brides (Kacak Gelinler) (as Kainat)
2015 – White Lie (Beyaz Yalan) (as Melek)
2015 – Left Side (Sol Serit) (as Yasemin) (Movie)
2016 – Heart of Ruzgar (Ruzgarin Kalbi) (as Zeynep)
2016 – On The Wings of Love (Sevda Kusun Kanadinda) (as Tumay Erbay)
2017 – Mrs. Fazilet and Her Daughters (Fazilet Hanim ve Kizlari) (as Hazan Camkiran)
2018 – 2019 Oath (Soz) (as Derya Karasu)
2019 – Miracle in 7th Cell (7. Kogustaki Mucize) (as Mine) (Movie)
2020 – House Maids (Hizmetciler) (as Ela Sonmez)
Social
Instagram: https://www.instagram.com/denizbaysal_/
Twitter: https://twitter.com/baysaldeniz
Facebook: https://www.facebook.com/denizbaysal.officialfanpage/
Deniz Baysal Gallery
Deniz Baysal – 2017 Wedding Video
https://www.youtube.com/watch?v=RVVVEFYm-m8
Shooting for wedding
Deniz Baysal - shooting for wedding