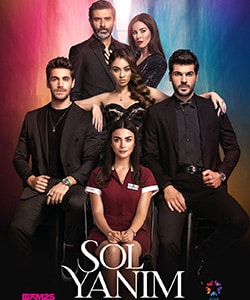 Details
Original Title: Sol Yanim
English Title: My Better Half
Also Known As: My Left Side (literal title), Mi Lado Izquierdo
Genre: Drama, Romance, Youth
Episodes: 12
Broadcast Network: Star TV
Broadcast Period: 26 November 2020 – 17 February 2021
Production Company: BKM
Director: Serdar Gozelekli
Screen Writer: Melis Civelek; Ozlem Cadirci
Filming Locations: Istanbul, Turkey
Synopsis
Serra (Ozge Yagiz) is a young girl who studies architecture at Kuzey University in Istanbul. She is a mature, responsible and beautiful young girl. She and her mother Nilgun (Esra Bezen Bilgin) live in a small shanty house and try to survive without the help of other people.
7 years ago, Serra and her family had a wealthy and happy life. However, their perfect life turned upside down when her father's business went bankrupt. The sequence of tragedies happened after then. Her father left his family behind and disappeared. Her brother committed suicide and died. Her mother could not handle the situation and suffered from physiological problems.

Serra has become the head of the family after then. She takes care of her mother, studies at school, and works at part-time jobs in order to earn money and support the living expenses. Her mother still suffers from physiological problems so, she stays at home all the time without doing anything. Thus, Serra even cooks and does house chores when she comes to home after long hours of studying and working.
Serra finds this life so difficult but never complaints about it. She tries to be strong and positive in front of her mother. She also could not forget his brother's suicide but tries to do her best to get through her past.
Serra works part-time at a well-known hotel as a housekeeper and after then, goes to university. Her simple life changes all of a sudden with a misunderstanding.
When she does her job very well and gets the recognition of a famous business man at the hotel, she is offered a ride. Serra accepts this offer in order not to miss the class. However, she is shocked when she sees a black limousine waiting at the hotel entrance.
Serra goes to the university with that black limousine. All of a sudden, she gets everybody's attention in the campus. Students assume that she comes from a very rich family and hence, they try to learn as much information as possible about her.
The popular students of the school also try to understand this mysterious girl. Biricik (Cemre Baysel) and Burak (Emre Bey) become extremely curious about this beautiful girl who gathers everybody's attention.
Meanwhile, Selim (Tolga Mendi) who is a student at Kuzey University also bumps into Serra out of pure coincidence. Selim is the most popular student in the school. He is handsome, arrogant, rich, and charismatic. While each girl at school shows interest to this popular guy, Serra does not refrain from having a dispute with him due to the nature of her personality.
Selim comes from a wealthy life. He has everything in life but no love in his family. His mother passed away due to an illness when he was a little child and he learnt that his father Ihsan (Cansel Elcin) had an affair with another woman during that time. After then, Selim has not got along well with his father who is now married to a sneaky woman Asena (Defne Samyeli).
Selim does not seem to care about his life and lives as he wishes all the time. Thus, he always has some problems with his father who has high expectations from his son. In fact, Selim tries to make his father mad due to his anger and disappointment.
The life of Selim and Serra intersects once more. The head of school master Onur (Tamer Rumeli), who is Ihsan's son-in-law, assigns Serra as a private tutor for Selim. He thinks that Selim could improve his grades if he closely study with a successful student.
After then, Selim and Serra start to study together and learn more from each other. Even though they often have a discussion for no reason and have strong prejudices towards each other, the more they spend time together the more they see the good in each other.
The mandatory study sessions of Serra and Selim also bring new disputes in the school. Biricik who has been in love with Selim for a long time and Burak who has some feelings towards Serra get disturbed by this relationship. Also, Selim assumes that Serra comes from a wealthy family even though Serra does not mention anything about her social status.
My better half (sol yanim – my left side) tv series story is about a difficult love of Serra and Selim who are made for each other, yet from different worlds. Also, you will see the struggle of a poor girl among rich people. Will Serra and Selim get along well as they spend more time together? How will Selim react when he learns that Serra does not come from a wealthy family? What is the relationship between Selim's father Ihsan and Serra's mother Nilgun? Will Selim and Serra fall in love with each other even though they have different social status and family backgrounds? Will Burak manage to get Serra's attention? Will Biricik continue her unrequited love towards Selim? Will Selim forgive his father and live in peace afterwards?
My Better Half (Sol Yanim – My Left Side) Tv Series Cast
Additional Cast Members
Ergul Miray Sahin as Pinar
Yavuz Pekdiker as Hakki
Demet Genc as Sevgi
Haydar Koyel as Haydar
Celal Tak as Hayri
Murat Balci as Baris
Ozgur Cem Tugluk as Salih
Efe Tasdelen as Bulent
Ayse Kirca as Yasemin
Hasret Usneker as Sevinc
Handan Yildirim as Tugba
External Links
Official Site: https://www.startv.com.tr/video/arsiv/dizi/sol-yanim
English Wikipedia:
Imdb:
Social
Instagram: https://www.instagram.com/sol.yanimdizi/
Twitter:
Facebook:
Youtube Channel: https://www.youtube.com/c/solyanim
You Might Also Like
I Named Her Feriha (Adini Feriha Koydum)
My Better Half (Sol Yanim – My Left Side) Turkish Drama Relationship Chart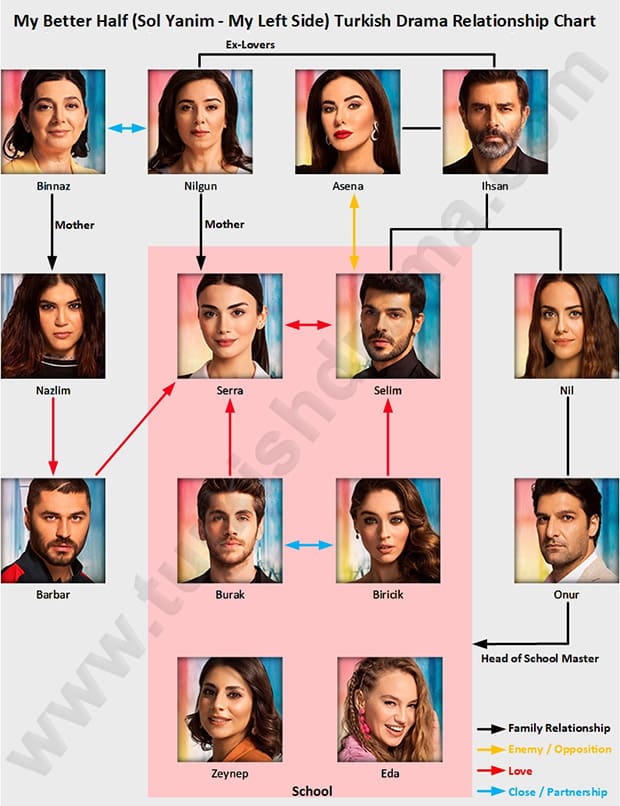 My Better Half (Sol Yanim – My Left Side) Tv Series Trailer (with English Subtitle)
My Better Half (Sol Yanim - My Left Side) Tv Series Trailer (Eng Sub)