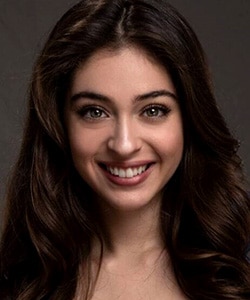 Profile
Name: Cemre Baysel
Birthdate: February 5, 1999
Birthplace: Izmir, Turkey
Height: 166 cm
Eye Color: Green
Hair Color: Brown
Education: Ege University Teachers' College – Art Teaching (Ege Universitesi Resim Ogretmenligi Bolumu)
Talent Agency: Talento Cast Agency
Spouse:
Biography: Cemre Baysel was born in 5 February 1999 in Izmir. Even though she studies art teaching at Ege University, she decides to become an actress. She made her debut with her role in Turkish Series Yesil Deniz in 2014.

Cemre Baysel Tv Series / Movies
Awards
2021 – Istanbul University 7.Gold Awards – Best Romentic Comedy Actress (Twist of Fate)
2021 – 47. Golden Butterfly Awards – Rising Star Award (Twist of Fate)
2022 – 6. KizlarSoruyor Yilin En'leri Awards – Best Drama Couple of the Year (Twist of Fate)
From Interview of Cemre Baysel
What did you buy when you earn money for the first time?
I bought a cell phone.
What is your Achilles heel?
I cannot stand for injustice.
What did you feel at your first job?
My first job is Turkish series Yesil Deniz. I was so excited during that time. I even could not speak. They made my hair so bad and I cried for that.
Which excuse do you use often if you want to get rid of something?
I use my mom as an excuse. I usually say "My mom said that" or "My mom called".
What applications do you use often?
Instagram, whatsapp, twitter, Google maps
What is the most common word that you use?
Exactly, after then, come on
Are you the type of person who wears make up at gym?
No, of course. When I go to the gym, they ask me whether I am sick or not.
What do your friends hate about you?
I do not drink coffee and my friends hate that.
What makes you so happy?
If my loved ones become happy, I become so happy too.
Social
Instagram: Official Instagram Account
Twitter: Official Twitter Account
Facebook:
E-Mail:
Trivia
Body Type:
Skills:
Zodiac Sign: Aquarius
Blood Type:
Hobbies:
Weight: 53 kg
Cemre Baysel Gallery
Aytac Sasmaz & Cemre Baysel
Aytaç Şaşmaz ve Cemre Baysel Sosyal Medyadan Gelen Soruları Yanıtlıyor!